Mass Fidelity Gets to The Core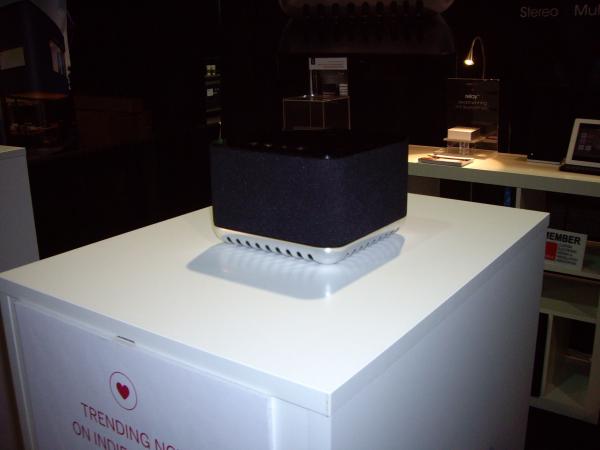 Amid the aisles and aisles of home automation systems and wholehouse audio/video equipment at CEDIA 2014 is a tiny booth manned by Canadian startup Mass Fidelity. The focal point is a battery-powered Bluetooth speaker that delivers surprisingly robust and spacious sound from a box that can sit in the palm of your hand. It's called The Core and it is most definitely not your everyday Bluetooth speaker.
How does it produce big sound from a 6 x 6 x 4-inch enclosure? Unlike conventional stereo that relies on the listener's position and psychoacoustics, the company uses an audio rendering technique called Wave Field Synthesis (WFS) to produce an image that remains stable as you move around it. The system's tiny digital amplifiers deliver 120 watts to four mid/high-frequency drivers and a mini subwoofer in the base of the speaker. Battery run time is rated at 12 hours.
The Core supports aptX decoding and has optical, USB, and analog minijack inputs. It can also create its own adaptive 5-GHz wireless network, which makes it possible to link up to nine Cores together; each speaker can also play individually from a local source.
In case you're wondering, all this technology doesn't come cheap—The Core will sell for $599 when it becomes available in December.
WHERE TECHNOLOGY BECOMES ENTERTAINMENT