Mark Levinson Integrated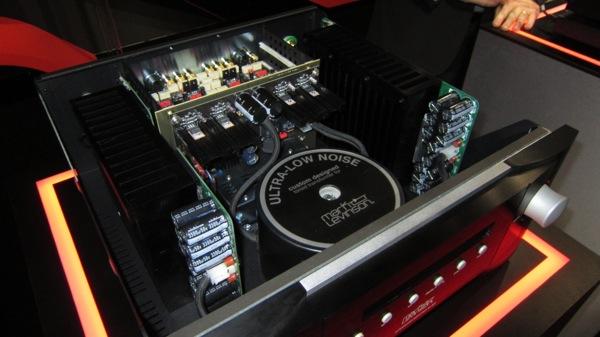 Mark Levinson products sit at the top of the Harman Kardon Luxury Group's totem pole. The new No.585 integrated amp $12,000, available summer 2014) offers 200 watts per channel into 8 ohms and 350 into 4, D/A conversion up 32 bits/192kHz, and a full complement of analog and digital inputs (including USB—but no HDMI, an unfortunate but almost universal omission in 2-channel integrated amps).
There is also a built-in subwoofer crossover and output for those wanting to set up a 2.1-channel system to accommodate both music and movies. A feature called "Signal Doctor" can process low resolution audio sources to better match their higher-rez (or at least CD quality) brothers.
There's also a home theater bypass input to facilitate a system configuration in which surround sources connect to an AVR or pre-pro. The latter feeds the L/R channels from its preamp outputs into the Levinson (which then amplifies the left and right speakers), and the pre-pro or AVR feeds the center and surround channels to an outboard amp (or the AVR handles the amplification for those channels). Two-channel sources connect directly to the integrated amp.
WHERE TECHNOLOGY BECOMES ENTERTAINMENT