MantleMount MM850 Knows How to Get Down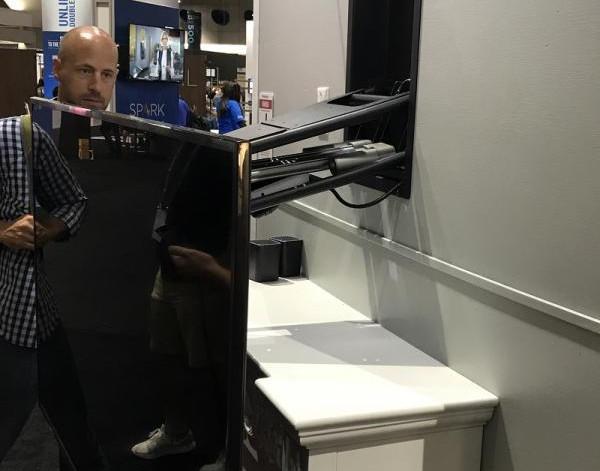 Due to room layout, many homeowners opt to mount their flat panel TV over the mantle above a fireplace. And while this might work with symmetrical design sensibility and produce the right
feng shui
flow for the space, it almost always puts the display too high, frequently producing odd screen reflections, causing neck strain, and making viewing uncomfortable. The simple – and obvious – solution is to use a mount that can lower the TV down to a more comfortable height while viewing, but then retreat to its position above the mantle when finished. That solution is what MantleMount is all about.
While the company has produced a variety adjustable mounts over the past few years, all have required the user to physically adjust the set, typically grabbing a set of handles that extended just below the screen or attached speaker. And while this solution is certainly functional, it isn't nearly as bad ass as using automation to handle these kinds of mundane chores for you. At CEDIA MantleMount debuted its new MM850 mount, the first to feature fully automated lowering, raising and swivel adjustments, bringing the TV to the perfect viewing position every time without ever leaving the couch.
The mount comes with a recessed mounting enclosure that cuts and installs into the wall. This allows the mount to retract into the wall when fully raised, allowing the display to sit nearly flush with the wall. Because the box requires a completely open, 16-inch on-center stud bay for installation, my first question was, "What do you do if there is a stud located right where you need it to go?" MantleMount was way ahead of me, having developed a 2x4 stud bracket that allows the installer to cut out the stud and then install 2x4 bracing for support, all without any visible cosmetic damage to the wall. That's the kind of forethought that tells me a company has really thought about its product and is squared away!
The MM850 utilizes four gas pistons to silently lower the TV up to 32-inches. The mount weighs 70 pounds and can support a TV up to 130 pounds, with sizes ranging from 55- to 100-inches. It also features an integrated bracket where you can mount a center channel or soundbar for an integrated look.
But this is no one-trick raise-and-lower pony! The mount also offers horizontal swivel up to 30-degrees in each direction, making every seat in the room the potential sweet spot. It also features auto temperature sensing to automatically raise the TV if it should get too hot, say if you decide to watch TV and have a fire running.
It comes with an RF remote control allowing preset settings and fine tune adjustments and also includes power sensing that can automatically position the TV to a favorite preset position. For integration the MM850 has a wired Ethernet connection and there are MantleMount has modules for both Control4 and RTI systems.
The MM850 is slated to be available this December at a suggested price of $1699.