Livescribe's Echo Smartpen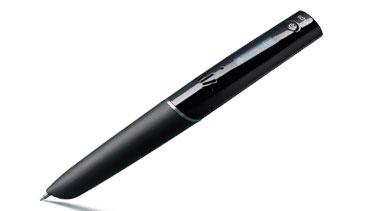 Do you ever sit around and daydream about inventions that could make your life easier? Whenever I get in my car for the 45-minute ride home from work and I'm feeling exhausted, I imagine roads where magnetic strips are built into the ground to guide my ride so that I can just plug in my destination, drift off, and wake up when I get to the driveway. Think about how great that's gonna be! Yeah, I know that smart roads are already being tested here and there, but I keep wondering how long I'll have to wait for one to get paved, programmed, and made active in my neck of the woods.

Here's a different daydream: How about a pen that you write on paper with and then plug into your computer so everything you've written, drawn, and recorded translates into a file? Good news: That dream device is now available everywhere, and the one I got to play with is called the Livescribe Echo Smartpen (livescribe.com).

If you're a student, salesperson, or someone who needs to write a lot of things down, this is definitely the gadget for you. Think of the possibilities. Say you're a student in a class where you need to take a ton of lecture notes. Using Livescribe's special dotpaper notebook, you can record audio of the lecture at the same time you're taking notes. When the lecture's over, plug the pen into your computer via the USB docking station and your written notes pop right up on the screen. Even better, the entire audio version of the lecture appears below them on a timeline.

If you're perusing your notes and find a section where you don't remember exactly what was being said, tap that area of your notes and the corresponding section of the audio will play back. Yes, that's right — one tap will take you right back to that exact segment of the lecture. Pretty sweet.

You can also share your notes with others through a PDF or what's known as a Pencast, an interactive Flash movie of your handwritten notes and audio. The uses for the Echo, which is a bit thicker than most pens, are abundant. If you're a salesperson, you can take down orders and always have an audio record in case of a dispute. Or just imagine, Mr. Office Worker, having the ability after a big meeting to go back to your boss when he or she tells you, "I never said that!," with audible proof that proves otherwise. (Hmmm, maybe you better be careful about that last idea.)

The Livescribe Echo offers a variety of free and paid-for apps, including translating phrases into a variety of languages, game play, and even music playback. The 8-GB Echo ($200) records up to 800 hours of audio or 128,000 pages of notes; the 4-GB version ($170) does 400 hours and 64,000 pages. You have to use Livescribe dot paper to activate all of the Smartpen applications, and a starter set is included. Additional notebooks start at $7.95, refill pads run $8.95, and lined journals go for $24.95.

The main downside that I can think of is that it'll cost you a few bills if you leave the Echo behind in a classroom or at an appointment, or if you let somebody borrow it and don't get it back.

My wife is starting a volunteer job at a high school where she'll be sitting in with students while they interview with college reps. She's tasked with taking notes on the meetings and submitting them to the school. And you can be sure she'll be taking them with the Livescribe Smartpen. Hmmm, come to think of it, I may never see it again! Note to self: Looks like I'm gonna have to get me another Echo.