Live Review: Dr. John Unlocks His 21st Century Night Tripper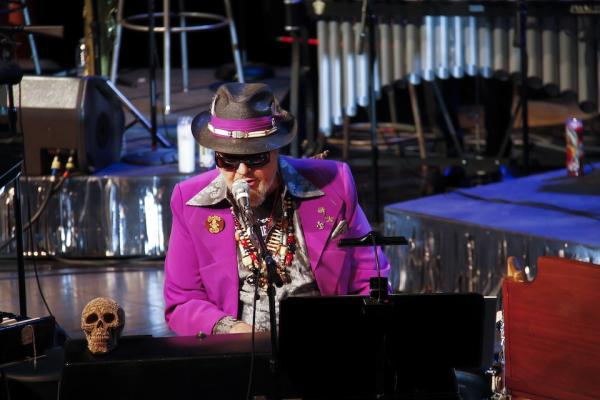 I knew I was in for something special as soon as I took my aisle seat in Row M in the orchestra at the Howard Gilman Opera House at the Brooklyn Academy of Music (a.k.a. BAM) last Friday. It was Night 2 of Dr. John's 3-night stand, named for his new, supertasty album Locked Down, produced by the Black Keys' Dan Auerbach. On Down, Auerbach's garage-blues sensibilities mesh beautifully with the once and future Mac Rebennack's patented Nu Awlins growl. (Next week at BAM, Dr. John and a different lineup will tackle a "Funky But It's Nu Awlins" theme.)
A little after 8 p.m., a sharp-dressed, bow-tied man walked across the stage, turned on an antique wood-paneled floor-standing radio at stage left, and the curtain opened to reveal a natty Dr. John at his Wurlitzer, a skull strategically perched on its corner facing the audience. (And it was one reverent audience at that — seated and enraptured most of the evening, with nary a glowing cellphone in sight.) The 12-piece band was off and running, the shuffling groove locked in and true for the "Locked Out" title track. Since the stage volume wasn't amplified to the point of distortion or distraction, I decided to leave my earplugs out for the balance of the show to see how, or even if, the nuances of this large band would come through in the mix (which could have easily been a muddled mess).
Music director Auerbach, planted just a few steps back and to the left of Dr. John, was one of only four bandmembers performing at stage height — the three-piece horn section, percussionist Yoshihiro Takemasa, drummer Maximillien Weissenfeldt, and the three McCrary Sisters (on backup vocals) were all on raised platforms. Auerbach had done his homework re: the arrangements and presentation, stirring a fine sonic cauldron of R&B, North African, gospel, and barrelhouse sound tonics (for starters, at least). His guitar lines were both biting and supportive, and he even had a tambourine on his fretting arm's bicep for certain jam/verse accompaniment; he also undertook shaker duty later in the set. Each element of the horn section — Dave Guy's trumpet, Aaron Johnson's trombone, and Brian Olive's sax — was distinctive on respective solo turns ("Mama Roux," "Eleggua") and well-blended on accompaniment and flourishes ("Revolution," "God's So Good"). The McCrary Sisters were in fine voice throughout the night (especially on the funky gospel of "Kingdom of Izzness"), though I did observe some of their synchronized swaying to be off a half-step every now and then.
My favorite aural moment of the evening came during the intro to the low-key slow-burner "My Children, My Angels," where Dr. John's Wurlitzer tinkling resonated right off of Weissenfeldt's idle snare — a detail that many halls, bigger rooms, and lesser mixes just cannot convey.
Overall, the good doctor was in fine salty sandpaper vocal form, whether tackling Down's accusatory "Ice Age" or attacking the vintage 1971 shuffler "Black John the Conqueror." During one sweet instrumental stew, the 71-year-old keysman stood up behind his stage-front-facing organ and shimmied and jigged after repeatedly stretching to touch and push-off the stage floor, looking more spry and slimmed down than when I sat next to him in the control room during an in-studio surround-sound listening session for Tom Petty & the Heartbreakers' Mojo back in 2010. Considering the band's atmospheric melting-pot soundtrack, it's no wonder the king was stirred to get up and move for his people.
For the encore, Dr. John returned to take a solo grand-piano turn on his 1973 classic "Such a Night" before the band joined him in full to close with the jagged, horn-driven boaster, "Big Shot." It hardly seemed like 90 minutes had passed us by, but that's what happens when you get immersed in dining on the soiree at the bayou.