Linn Komponent Speaker System, Chakra C5100 Amplifier, and Unidisk SC Universal Disc Player
Flexibility and value from a Scottish benchmark.
Imagine what it would be like if shopping for a new car involved the same number of decisions we must make when buying a home theater system. First, we would pick an engine, then we'd need a chassis to mount it in, and, to top it off, we would hire a coach builder to design a body to our specifications. This is, in fact, the way people bought luxury cars prior to World War II, before the car companies came to recognize that advancing technology required them to think of the design as an integrated whole rather than as a hodgepodge grouping of discrete components.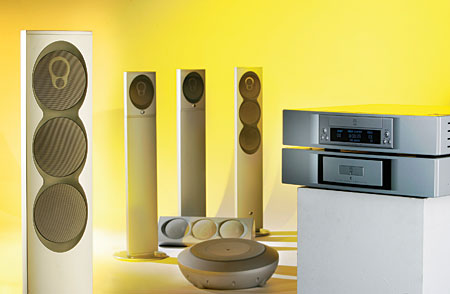 With this in mind, it seems strange that most hi-fi companies still build components for a pick-n-choose approach to system building, which leaves the critical matching decisions up to the dealer or consumer. While most of the bigger mass-market companies make one-brand home-theater-in-a-box systems, smaller high-end companies tend to specialize in certain types of components, and you can almost count the number of specialist manufacturers that can deliver a soup-to-nuts package on the fingers of one hand. Scotland's Linn Products has subscribed to a complete-system approach ever since they were founded back in the early 1970s. And, for more than 20 years, they have been delivering complete single-brand system packages at a wide range of price levels.
Complementary Players
Coming from a company as staunchly proud of their Scottish roots as Linn, the decision to manufacture their new Komponent speakers in Asia has certainly raised an eyebrow or two from the British pipe-and-slippers traditionalists. Politics aside, however, it would be hard to imagine that the Scottish factory could have turned out a better-finished product than this. Getting away from more traditional wood-based cabinetry, Linn has fashioned the Komponents using sleek extruded-aluminum enclosures that give them a decidedly contemporary, high-tech look. Each of the drivers comes covered with a fixed mesh grille so that you don't have to see any naked woofers and tweeters. If the resulting styling is a little too Ikea-like, however, you can soften the effect by adding the included magnetically mounted fabric grille covers. Two different finishes are available—a natural aluminum that pumps up the tech factor and a more businesslike charcoal gray.
As with most recent Linn speakers, the Komponents have separate binding posts for each driver, and this allows you to biwire, triwire, or even quadwire the speakers. If you want to take things a step further, some minor internal surgery from your dealer will also allow you to go Aktiv, using multiple amp channels to drive each speaker. While Linn has always emphasized the importance of the upstream components in their system-building hierarchy, you should carefully examine the cost effectiveness of multiwiring or multiamping lower-priced speakers like the Komponents before you make such a move. To keep things simple, I ran the system in the plain old single-wired mode using lengths of Linn's own K-20 speaker cable.
The Komponent speaker range also breaks new ground for Linn in that they have designed each of the different models not so much as a standalone product, but for use as part of a package that includes a subwoofer—or a bass-extension loudspeaker, to use Linn parlance. This has allowed Linn to make the speakers especially compact, widening the range of possible configurations and mounting options. There are three basic models: the Komponent 104, a three-way, compact bookshelf model that you can also wall-mount or use with a dedicated stand; the Komponent 106, which extends the range of the Komponent 104 by adding an additional woofer and a passive radiator in a larger enclosure; and the floorstanding Komponent 110, which puts the drivers of the Komponent 106 into an even larger cabinet that you can also wall-mount.
Each model uses Linn's 2K multidriver array, which positions the tweeter and midrange drivers on a panel sitting directly in front of the woofer. While the Komponent 104 and Komponent 110 are configured for use in a normal, vertical standing position, you can rotate the 2K array in the Komponent 106 speaker 90 degrees to optimize it for a horizontal orientation so you can use it as a center channel.
Rounding out the range is the Komponent 120 bass-reinforcement loudspeaker, which Linn has designed to fill in the bottom end of the spectrum below the range of the other Komponent speakers. Looking a bit like a flying saucer that just flew in from Area 51, the Komponent 120 uses an 8-inch driver powered by a built-in 170-watt-rated amplifier. It includes a bypass-capable line-level crossover with input-level adjustment and a phase control. While spikes and floor protectors are provided for when it's on the floor, the Komponent 120 also comes with a wall-mounting bracket just in case you really want to get everything up off the ground. To my eye, having a flying saucer on the floor is one thing, but having one stuck to the wall looks decidedly strange.
Power Player
Most multichannel power amplifiers are big, unwieldy beasts hampered by the incorporation of beefy power supplies for numerous channels of amplification. With the Chakra range, Linn has altered the equation by incorporating one of their familiar switched-mode power supplies, eliminating the need for massive transformers and capacitors. The Chakra range includes several different models with varying numbers of channels and power outputs. As part of my plan to keep things as simple as possible, I used the five-channel Chakra C5100. Although Linn rates it at 100 watts per channel, I should note that this is the figure into a 4-ohm load. Nevertheless, with all of the power-robbing bass being diverted to the Komponent 120 subwoofer, this little amp proved to have more than enough gusto to play the Komponents as loudly as I would ever want to.
A Multitalented Player
Linn's original Unidisk 1.1 redefined disc player performance when it was introduced a couple of years ago, yet the newer Unidisk SC somehow manages to deliver a good chunk of the Unidisk 1.1's impressive sonic qualities, along with a whole slew of new features for less than half of the cost. Combining the functions of a universal player and a basic pre/pro, the Unidisk SC can form the centerpiece of a fairly simple yet very high-performing home entertainment rig. While anyone looking to run a fairly elaborate setup with a rack full of source components will probably want to add a separate controller, like Linn's own Kinos, you can configure many simpler 5.1-channel rigs directly using the Unidisk SC.

The single biggest limiting factor here is the Unidisk SC's provision for just one external source. So, for example, if you have both a cable box or satellite receiver and a VCR or DVR, you'll want a controller that's a bit more versatile. You can connect the video input and output signals using composite, S-video, or component connections, and there's also an HDMI output. There is no transcoding between these signals, meaning you may have to use multiple video inputs on your display to get the best possible video performance from each source.
More flexibility is given to audio-only sources, and you can select the Unidisk SC's four analog and four digital (two coax and two Toslink) audio inputs independently. The Unidisk SC also includes the ports required to integrate it as part of a Linn Knekt multiroom system, while other such systems can control it via an RS-232 port.
Most users, however, will control the Unidisk SC directly using an IR remote, although, unfortunately, the one that Linn provides is rather frustrating to use. In a brightly lit room, I found myself squinting to navigate my way around this remote, which has lots of identical-looking light-gray buttons labeled in tiny dark-gray print. And, without any built-in button illumination, it became a serious challenge to operate in a darkened home theater. While it is preprogrammed to control the basic functions of most TVs, it cannot control an external cable box or satellite tuner.
While many so-called home-theater-in-a-box systems can provide adequate performance for movie watching, it's a rare beast that doesn't fall flat when it comes to delivering convincing sound with music sources like CD and SACD. Linn, however, has put music making right at the top of their list, and, like its big brother, the Unidisk SC should be way up near the top of any ranking of CD players. In addition to the Komponent rig, I also plugged the Unidisk SC into my own reference two-channel music system, and it clearly outperformed my usual reference CD player in its ability to make musical lines hang together, providing extraordinary insight into how any piece of music was created. Going back to the Komponent system, these qualities remained abundantly clear, and this is one of the few home theater packages I have ever used through which I could truly enjoy simply listening to music.
Still, don't get the impression that video performance takes a back seat to audio. The Unidisk SC can deliver video that I have trouble finding fault with, and it cruised through every torture test I threw at it. At one point during my evaluation, I had an ISF technician stop by to calibrate a new HD display, and even he was suitably impressed by the Unidisk SC's video performance. Movies had a particularly smooth and clean look, complemented by a sound that put an emphasis on clarity, focus, and precision more than the Sturm und Drang of most typical action flicks.
Setting up the processor in the Unidisk SC is pretty straightforward using the onscreen menus, and Linn has opted to keep things simple by not providing a bunch of extra functions of questionable utility. Bass management consists of a large or small option for each speaker position, with the small setting using a fixed 100-hertz crossover point that just happens to match the Komponent speakers perfectly.
One Integrated Team
Linn realized a long time ago that their continued success depended on creating products that would appeal to nonenthusiasts of discriminating taste, in addition to die-hard audiophiles. With the Komponent series, they have delivered just that—a system that can bring together high-quality music, movies, and multichannel sound without taking over the room. While there are plenty of inconspicuous systems that can perform the same basic functions, I can't think of any that can also provide such a convincing musical performance.
Need a Display?
We recommend the following displays to mate with this Linn system:
InFocus ScreenPlay 777
DLP Projector, $14,999
Resolution: 1,280 by 720
Best video connection: DVI
Weight: 44.4 pounds
Sharp XV-Z12000 MARK II
DLP Projector, $9,999
Resolution: 1,280 by 720
Best video connection: DVI
Weight: 20.7 pounds
**Please remember that if you decide to use a projector, you will also need to purchase a screen.