Linkplay Technology Adds Hi-Res Streaming and Alexa to Wireless Speakers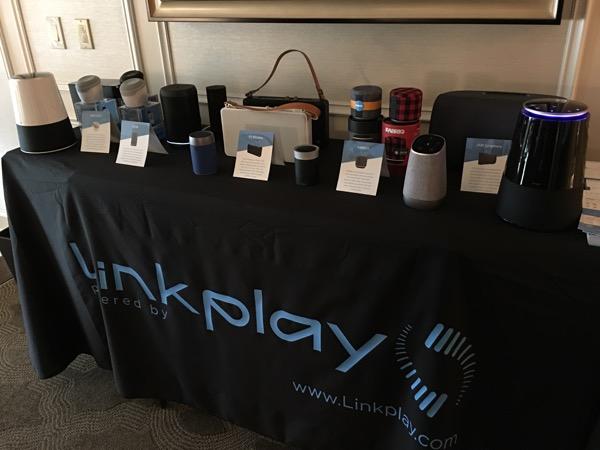 Linkplay
is a "a leading WiFi audio solution provider," which basically means they make the core communication hardware and software that speaker manufacturers can use to design new wireless, streaming speakers without having to engineer everything from the ground up. In other words, a loudspeaker manufacturer—such as
Fabriq
or
Jam Audio
, two of the first companies to embrace the Linkplay solution—can concentrate on the thing it does best (make speakers) and get the digital backend from Linkplay. Another huge bonus of incorporating Linkplay into a streaming speaker is that Linkplay provides integration with Alexa Voice Service, wirelessly and hands-free.
But the Linkplay technology is more than just a way of cramming an Amazon Echo Dot into a wireless speaker. The bit I like best about Linkplay's overall design is that, unlike DTS Play-Fi or AirPlay, Linkplay offers "interruption-free music streaming from any iOS or Android device to speakers over a WiFi network…[and] eliminates the need to connect a phone to the speakers, allowing users to stream music without interference from calls or texts." Linkplay also provides access to numerous streaming audio services, including Amazon Music, Audible, TuneIn and iHeartRadio, Spotify, TIDAL, and Napster. It also works with AirPlay, DLNA, Spotify Connect, and QPlay protocols.
Linkplay has even more to offer, though. The platform offers multi-channel wireless stereo pairing, as well as simultaneous left and right channel playback on two or more Wi-Fi speakers.
Linkplay says it is working with over 40 brands that are "powered by Linkplay". In addition to current speaker models from Jam Audio and Fabriq, the Linkplay demo suite included a sample of the $59 MUZO Cobblestone speaker. Also on display was the soon-to-be-released (January 25, 2017) Omaker Wow Wireless Wifi Portable Bluetooth Speaker with Amazon Alexa.
Momentum seems to be building among speaker manufacturers to include Linkplay technology for two main reasons: it's relatively easy to implement in their speakers, and it makes their speakers Alexa-enabled. At CES 2017, Alexa was everywhere—and I mean everywhere. At least incorporating Alexa into a wireless speaker makes sense. In fact, it makes a lot of sense. Expect to see (or hear) much more from Alexa-enabled speakers in the coming months.