LG Kicks It Off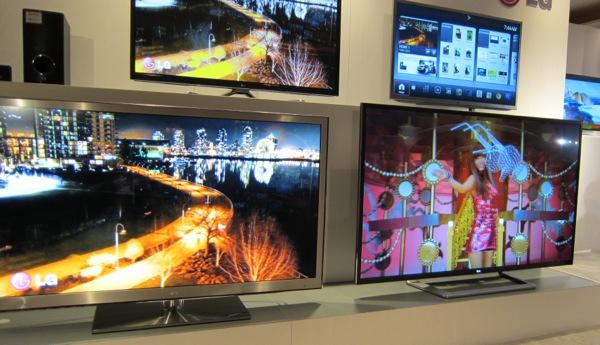 While not as svelte as the company's 55-inch OLED prototype discussed below, LG's new lineup of Smart LED/LCD sets is still just a bit over an inch thick with a 1mm thick bezel framing the screen. The top of the line Nano sets, available several sizes up to 84" in size. The Nano designs are full backlit local dimmers, utilizing LEDs impeded into t thin membrane that allows for superior backlit local dimming in a thinner design.
LG's magic remote has been improved, allowing not only pointing but also both gesture and voice recognition. And like all the HDTV manufacturers at the show, LG's Smart technology offers further enhancements in convergence and connectivity with Web-based sites and features.
That 84" model is unique in that it is a 4K design. Despite the lack of 4K sources, 4K offers significant advantages for LG's passive glasses approach to 3D. Specifically, it can present a full 1920 x 1080 resolution to each eye, unlike the half vertical 3D resolution on conventions 1920 x 1080 sets.
LATEST VIDEO
WHERE TECHNOLOGY BECOMES ENTERTAINMENT