LG Announces 8 OLED Models and 'Super UHD' TVs with 'HDR Plus'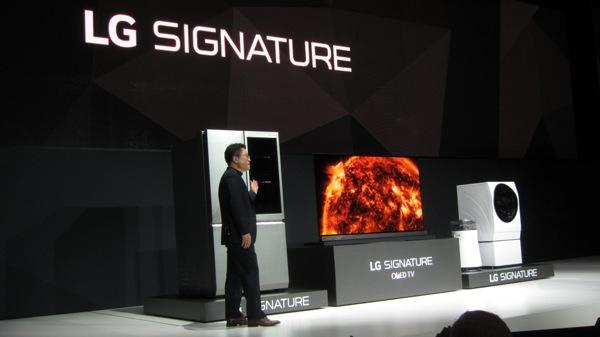 The Korean HD and UHD set makers are not only into televisions. They're also big on home appliances. Much of LG's Press day confab was awash on the company's LG Signature lineup, which includes refrigerators and clothes washers in addition to video displays (and not to worry, ovens and dishwashers are in the pipeline as well!). Now your kitchen and laundry room drudgery can become soulful experiences.
Seriously, though, our beat is video, and LG's UHD news was enticing. Yes, there will be a new lineup of Super UHD LCD/LED sets in three distinct series (UH9500, UH8500, UH7700), and a 98-inch diagonal, 8K (!) model. These sets will offer a feature LG calls HDR Plus, "A combination of technologies that result in improved overall performance (color and contrast) for a HDR experience that's better than TVs that are only HDR Compatible." I don't know what that means (but will attempt to find out). It could mean some sort of faux HDR, with or without compatibility with true UHD sources. If so, hopefully it can be defeated.
But it was the company's upcoming OLEDs that kept us on the edges of our seats. In addition to the 65-inch LG Signature model shown here (at 2.57mm thick, about the thickness of four stacked credit cards) there will be seven other OLEDs ranging from 55- to 77-inches. According to LG reps questioned after the formal event, all of these 2016 OLEDs will be compatible with both of the major high dynamic range formats we expect to see in program sources: Dolby Vision and HDR10.
One item was missed at the LG press event. There was no mention of an upcoming LG Ultra HD Blu-ray player.
Rollout of the new sets is expected around March. No prices were available, although the company issued a press release today stating that two of the 2016 TVs are available for pre-order on Amazon.com: the 65-inch 65E6 OLED TV ($7,000) and 65-inch 65UH8500 Super UHD TV ($3,000).