Legend of the Guardians: The Owls of Ga'Hoole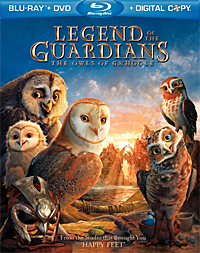 Young owl Soren (voiced by Jim Sturgess) marvels at tales of the Guardians of Ga'Hoole, mythic winged warriors who battled to save all owlkind from the evil Pure Ones. When he and brother Kludd (Ryan Kwanten) fall into the talons of the Pure Ones, it's up to Soren to make a daring escape with the help of other brave owls and seek out the Great Tree, home of the Guardians.
The marketing for this film wasn't very enticing, but the story has a lot of heart and is very entertaining. Director Zach Snyder (300, Watchmen) makes his animation debut with this fantasy adventure based on the beloved books by Kathryn Lasky.
Day-and-date releases from Warner have been nothing short of outstanding this month, and here's another demo showpiece. The AVC encode is visually stimulating with impeccable attention to detail in the animation, and the DTS-HD MA 5.1 soundtrack has some of the best imaging I've ever heard in my theater.
The nest

Chapter 1, 00:03:07
Detail
Look at the amazing detail in Kudd's face, the texture of his feathers, and the reflection in his eyes.
Moonblinked

Chapter 2, 00:18:15
Imaging
As Soren and Gylfie (Emily Barclay) are corralled into the gatherers area, listen to the voice of the guard as it moves through the soundstage. The pinpoint imaging creates the illusion of "being there."
Flying away

Chapter 5, 00:56:44
Detail, dynamic range
This scene highlights both audio and video as Soren and crew search for the owls of Ga'Hoole. Listen as the wind whistles through the room and how every flap of his wings can be heard.
On the video front, check out the amazing detail in Soren's body and face, and notice the realistic-looking cumulous clouds in the background.
Release Date: December 17, 2010
Studio: Warner
Movie: 7/10
Picture: 10/10
Sound: 10/10
LATEST VIDEO