LCD for Less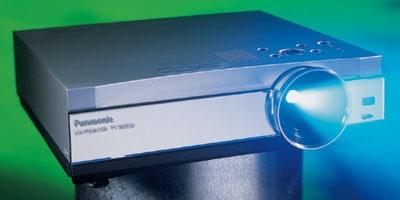 Photos by Tony Cordoza
You hear a lot of buzz lately about how inexpensive digital TVs have become. Prices for big-screen rear-projection TVs (RPTVs) have leveled off to the point where even high-definition models cost about what analog RPTVs cost before TV started to go digital. And the flat-panel plasma models that you thought you had to be a gazillionaire to afford can now be picked up for under three grand at the local Costco. But the biggest bang for your video buck right now has to be LCD (liquid-crystal display) front projectors. For less than $2,000, you can get a projector that will beam crisp, bright, 8-foot (diagonal) images onto the wall of your home theater. With a picture that large, you might be tempted to charge your friends and neighbors admission (remember to serve popcorn), because you'll effectively be in competition with the local multiplex.
To get a grip on this low-cost, big-screen phenomenon, we selected three LCD projectors ranging in price from $1,800 to $3,000. Besides their reasonable prices, what they have in common is 16:9 LCD panels that produce pictures in the same widescreen format used by anamorphic DVDs and HDTV. They've also been engineered from the ground up for good-looking video - something that distinguishes them from typical LCD projectors, most of which are designed to be hooked up to a computer for business presentations. But that's not to say you can't connect these guys to your PC or Mac: with computer inputs like VGA jacks and DVI (Digital Visual Interface) connections, they can easily serve as big-screen monitors for Web-surfing and other multimedia pursuits. Two of them even let you plug in a memory card from a digital camera and project "slide" shows of JPEG images. Now, is that cool, or what!
While you can beam pictures directly onto a wall in your home, front projectors definitely perform best paired with a dedicated projection screen. For this test, I used a 92-inch (diagonal), 16:9 GrayHawk from Stewart Filmscreen. This $1,300 screen was designed for use with LCD and DLP (Digital Light Processing) projectors, both of which produce images that can look washed-out and low-contrast when shown on a standard screen meant for cathode-ray-tube (CRT) projectors. Each projector was installed on a low table approximately 11 feet from the screen. PDF: Features Checklist
Panasonic PT-AE200U
Panasonic's LCD line made the crossover into home theater a few years back, and the PT-AE200U ($1,800) is among the newest additions to the company's projector stable. The compact, silver-cased unit can be mounted either on a table or the ceiling (with the optional $365 mount). Either way, it's unlikely that you'll be bothered by the internal fan because it's practically inaudible at the low setting, the one Panasonic recommends for watching movies in a dark room.
The PT-AE200U's 1.2x zoom lens allowed me to set it up between 9 and 11 1/4 feet from my screen. The pixel count of its three LCD panels (red, green, and blue) is 858 x 484 - a good match for widescreen movies on DVD, but not high enough to display HDTV programs at full resolution. Even so, the Panasonic can accept HDTV programs in both the 720p (progressive-scan) and 1080i (interlaced) formats in addition to standard 480i and 480p signals.

Video inputs include wideband component- as well as composite- and S-video jacks. There's also a VGA-style RGB connector that you can use to hook up either a computer or an HDTV tuner. Another input worth noting is a slot on the projector's side that accepts SD (Secure Digital) flash-memory cards. When you plug one of these in, the projector's SD menu lets you create slide shows of JPEG images taken on a digital camera, and you can also watch the MPEG-4 movies that some digital camcorders can record directly to a memory card.
The Panasonic's remote control is small, but it has a fully backlit keypad, and the buttons are clearly labeled. A row of buttons located on the top half let you directly access any of the projector's video inputs. Additional controls let you toggle through the three user picture presets and the seven factory presets, any or all of which you can also customize and have the projector remember your changes. Pressing the Aspect button toggles through the display modes. In addition to 16:9 and plain 4:3, these include Zoom, for letterboxed 4:3 programs, and Just, which leaves the center intact, stretching only the edges of 4:3 images to fill the screen. There's also a button for freezing an image onscreen.
Setting up the Panasonic proved to be quick and painless. After connecting a progressive-scan DVD player, I manually tweaked the lens's zoom and focus rings and then used the vertical keystone adjustment (easily accessible from the remote control) to finish the job. There was no option to adjust the horizontal or vertical position of video sources - not a serious limitation.
The Panasonic has a five-step color-temperature setting, but there are no additional white-balance adjustments for tweaking the color-temperature presets. After I chose the lowest setting, colors looked vivid: the green Astroturf in The Rookie seemed very realistic (for something fake, anyway), and there was a wide range in the actors' skin tones. The image also had a punchy, bright quality, with deep, almost CRT-like blacks.
Panasonic PT-AE200U
DIMENSIONS 11 inches wide, 3 1/4 inches high, 10 inches deep WEIGHT 6 1/2 pounds PRICE $1,800 MANUFACTURER Panasonic Consumer Electronics, Dept. S&V, One Panasonic Way, Secaucus, NJ 07094; www.panasonic.com; 800-211-7262
The Panasonic's picture detail was also very good. In a scene from
The Man Who Wasn't There
where Thornton's character types out a ransom note, the typed text looked solid, and I could easily make out the pulpy texture of the paper. The image had a realistic amount of shadow detail and an impressive range of intermediary gray tones from the deepest black to the whitest white. However, I did notice a picture-uniformity problem when watching a bright scene that takes place in the barbershop, which showed up as a pink tint in the bottom corner of the screen. This problem was much more noticeable on black-and-white movies than on color ones.
Although DVDs played on a progressive-scan player generally looked great displayed by the PT-AE200U, I didn't get very good results feeding it interlaced programs from a standard player or cable-TV box. When I used the Panasonic's composite- and S-video inputs, the image looked soft, and the lack of 2:3 pulldown processing resulted in stairstep artifacts in some movie scenes with diagonal lines.
The soft-looking image also tended to accentuate the screen-door effect - a gridlike image texture that's common to lower-resolution LCD front projectors like this Panasonic model. It was fairly noticeable here. At one point, the projection lamp shut down after a few hours of continuous use. It took only a few minutes for the PT-AE200U to cool off and light up again, but I imagine most folks would find such a forced intermission irritating.
For an inexpensive projector, Panasonic's PT-AE200U delivers very good video quality with only a few minor compromises. Paired with the right screen, it will provide a bright image with deep, satisfying blacks. And if you're a shutterbug, the slot for plugging in SD flash-memory cards directly from a digital camera is like icing on the cake.
LATEST VIDEO