Korg DS-DAC 100/100m USB Audio Playback System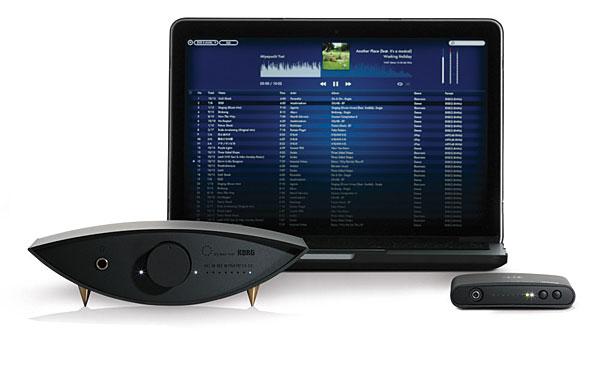 Korg is well known among musicians for its electronic keyboards but recently introduced a high-resolution audio playback system comprising its proprietary AudioGate 3 software and one of two USB digital-to-analog converters, the retro-styled DS-DAC-100 ($600) or the ultracompact DS-DAC-100m ($350).
Both models share the same internal circuitry, derive power from the USB connection, and have a 0.25-inch headphone jack, a volume control (up/down buttons in the case of the 100m), and LED sample-rate indicators. The output stage is where they differ: The DS-DAC-100 has balanced outputs via XLR connectors plus a set of RCA jacks whereas the DS-DAC-100m has only a 3.5mm stereo mini output.
The system is intended to provide the "highest possible fidelity" playback from a Mac or Windows PC. Its secret sauce is the AudioGate 3 software, which converts any incoming digital audio signal—CD, MP3, you name it—into the Direct Stream Digital (DSD) format originally created for Super Audio CD and revered by some audiophiles and audio professionals.
Korg has put its decade-long experience developing DSD recorders to work in the DS-DAC systems and says its DSD signal processing and bidirectional DSD/PCM conversation technology yields "painstakingly accurate audio reproduction without any degradation." The system supports PCM sampling rates ranging from 44.1 to 192 kilohertz and DSD playback at 2.8224 megahertz or 5.6448 MHz.
The AudioGate 3 software is available for free with the DS-DAC-100 or DS-DAC-100m. If you want to dip your toe in the water, a "lite version" of the software is available for download on Korg's Website—and the price is right: free.
Korg USA
(631) 390-6800
korg.com
LATEST VIDEO