Klipsch Announces New Portable Bluetooth Speakers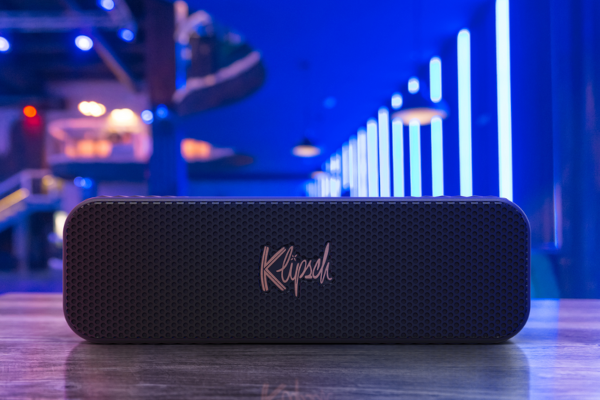 Klipsch today announced a series of Bluetooth speakers that will bring the total number of portable models it offers to seven, at prices ranging from $99 to $349.
The new Music City Series comprises three weatherproof models, the appropriately named: Austin, Nashville, and Detroit. The Austin ($99) and Nashville ($149) minispeakers are slated to ship in the coming weeks just in time for the holidays and will be followed by the larger Detroit model ($299) next year.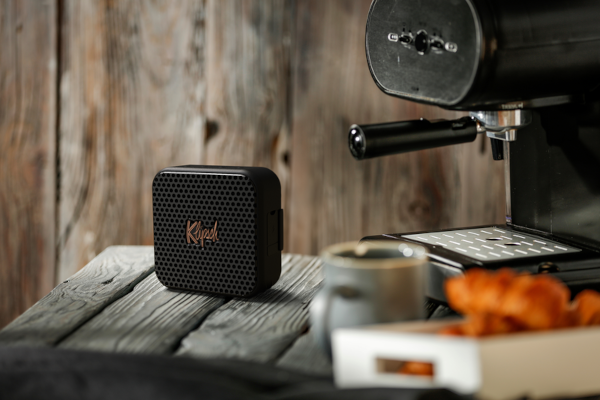 The smallest speaker in the series, the Klipsch Austin (shown above), mates a 1.5-inch driver with two passive bass radiators and a 10-watt RMS amplifier in a grab-and-go enclosure measuring only 4 x 4 x 2 inches. Rated to provide up to 12 hours of play time on a single charge, the speaker has a respectable maximum output potential of 85 dB and is rated to play down to 70 Hz (±3 dB).
Moving to a larger 7 x 3-inch rectangular footprint, the Klipsch Nashville (shown below) doubles the power output and driver count, sending 2 x 10 watts RMS to a pair of opposing 2.25-inch full-range drivers to create an omnidirectional sound effect. The low-end is bolstered by a pair of passive bass radiators that enable the speaker to reach down to 50 Hz (±3 dB). Acoustic output potential is slightly higher than the Austin at 89 dB, but battery life is also doubled, providing 24 hours on a single charge.
As the largest and loudest speaker of the lot, the Klipsch Detroit (shown in opener) is best suited to convey the dance grooves that made Motown famous. It boasts a two-way stereo driver configuration with a pair of 1-inch tweeters, two 3-inch drivers, and "quad force cancelling passive radiators." Everything is housed in a ported enclosure measuring 13 inches wide, 4 inches tall, and 5 inches deep, and the battery provides up to 24 hours of play time on a single charge. Detailed specs are not yet available.
All Music City speakers sport an IP67 rating, meaning they are dust-tight and waterproof, even when submerged in more than 3 feet of water. The speakers also include a built-in microphone for receiving calls and support Bluetooth 5.3, which has an extended wireless range of 40 feet.
All models can also be used with the Klipsch Connect app, which provides custom EQ settings, and feature a mono party mode (Klipsch calls it broadcast) that enables up to 10 Klipsch speakers to rock out simultaneously. Compatible models include the popular Klipsch One Plus and Klipsch Three Plus tabletop speakers. The Austin and Nashville models have an integrated strap/handle for easy toting. For more information, visit klipsch.com.