KISSH: Keep It Simple Smart Home Gift Guide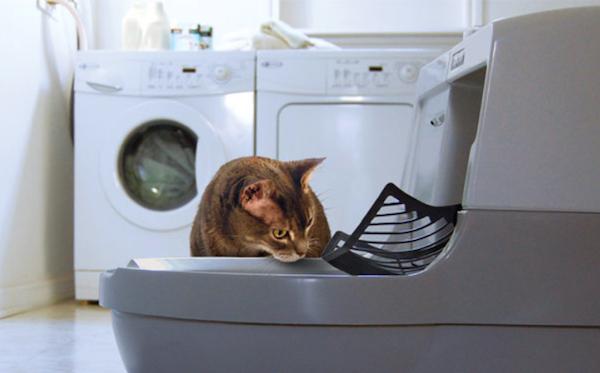 It's too easy to make things complicated, especially when it comes to gift giving—and, ironically, smart home automation systems. In my opinion, 2016 has already been way too complicated, so here are some simple smart home things for you to consider putting on your KISSH (Keep It Simple Smart Home) holiday gift list.

The Flic folks claim that the company's Flic button is "the world's smartest button." Considering most buttons I've come across are dumb as doorknobs, I'm not sure that's a hard bar to surpass. Nevertheless, I think the Flic button is pretty awesome. It can be a tiny-but-powerful addition to a smart home system, or it can be used solely with the Flic app on an Android or iOS device—it can even be used to find your connected smartphone (within 50 meters via Bluetooth Low-Energy). Think of the Flic button as a small remote control with three triggers: Click, Double Click, and Hold. You get to decide what each of those triggers initiates, be it a single action (such as taking a photo with your connected smartphone) or a macro collection of actions (such as dim the lights, play romantic music, and lower the thermostat three degrees, and then, well, you're on your own after that…) Some—but not all—of the brands/devices/systems Flic is compatible with are LiFX, Spotify, IFTTT, Sonos, Philips Hue, Runkeeper, and Logitech. Confused? This post, "What Is Flic?", from Flic does a much better job of explaining the Flic button and what it can do. (In my defense, I only had one paragraph to convey the info Flic presents in about 20.) In addition to being super-functional and super-programmable, the Flic button has another feature to recommend it: it's only $34 for one or $99 for a pack of four.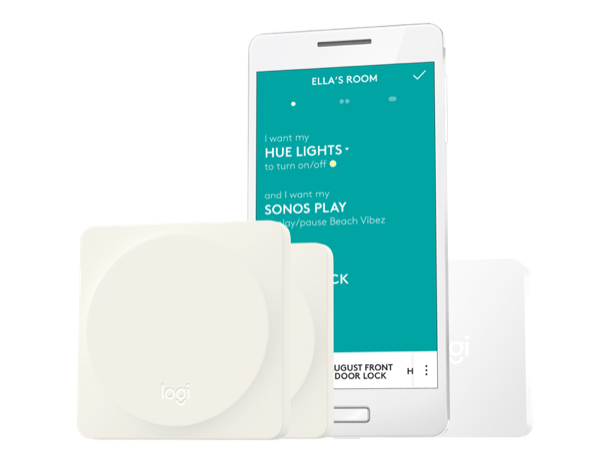 If the Flic button doesn't click with you, Logitech's POP Home Switch works in much the same way, except that it's hub-based (the POP Bridge) and can be expanded by adding more POP Switches around the home. Logitech's POP Switches aren't as small as the Flic button mentioned above—each square POP Switch is 2.36 in x 2.36 in x 0.35 in. The POP Home Switch system works with WeMo, IFTTT, LiFX, SmartThings, Lutron, Insteon, and Philips Hue. It also works with Harmony hub-based remotes and can be used to start or stop "Activities" in your home theater and around the house. Because the POP Home Switch has its own dedicated hub, anyone can press a POP Switch and get results, regardless of whether there's a smartphone in the room. The starter pack that includes the POP Bridge and one POP Switch is $99. Additional POP Switches are $39/each and are available in White (yawn), Coral, Teal, and Alloy.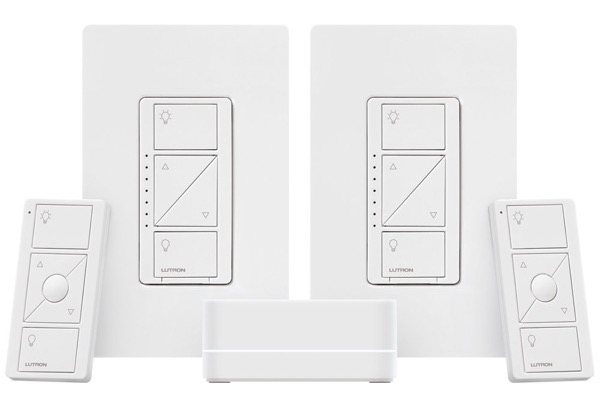 Lutron's Caseta Wireless smart lighting system is more than a single button. Like Logitech's POP Home Switch system, Lutron's Caseta Wireless systems that include more than one dimmer require a central hub to tie everything together. Lutron calls it the Smart Bridge. Once you have that, you can mix and match all kinds of Caseta Wireless in-wall switches and dimmers, plug-in lamp dimmers, and little, five-button Pico remote controls. Lutron has multiple Caseta Wireless starter kits, from the basic "you don't need to know a thing about electricity other than how to plug a lamp into an outlet" P-PKG1P-WH (that includes one plug-in lamp dimmer and one Pico remote) for $60 to the "I hate toggle light switches and am not afraid to flip a breaker and replace the ugly, darn things with something sleek and slim" P-BDG-PKG2W (that includes a Smart Bridge, two in-wall dimmers, two wall plates, two Pico remotes, as well as two tabletop pedestals for the Pico remotes) for less than $190. By the way, the Lutron Caseta Wireless Smart Bridge works with Apple HomeKit as well as Amazon's Alexa-enabled devices for voice control.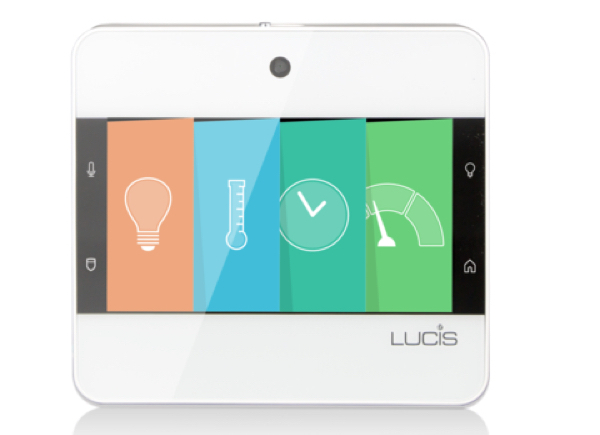 NuBryte's Touchpoint consoles are designed to make a more extensive smart home system—one that offers features such as lighting control, home security, energy monitoring, and intercom capabilities—in a simple, easy-to-operate, on-wall console with a color LCD screen that replaces any existing single- or two-gang light switches. In addition to providing control over the connected lighting fixtures, the NuBryte Touchpoint includes a built-in camera, motion detector, and light/sound alarms. The Touchpoint displays indoor temperature and humidity reading along with daily weather conditions and a 5-day forecast. Two or more Touchpoints installed in a home can be linked together via Wi-Fi to provide control in more rooms with the added benefit of functioning as a home intercom system. I haven't had the chance to use a NuBryte Touchpoint, yet, but the $249 price for a single-switch Touchpoint ($259 for a dual-switch version) is pretty sweet.
TCL says it's the third largest TV manufacturer in the world and has been making "high quality CRT, plasma and LCD televisions for over three decades." The TCL Xess isn't simply another display from TCL—although it is designed to be simple. Similar to the NuBryte Touchpoint, the TCL Xess is an all-in-one smart home hub, but there's much more to it than that. The TCL Xess is a 17.3-inch HD display with built-in speakers. It includes an internal rechargeable battery along with a carry handle (that also functions as an adjustable stand). Perhaps the most exciting aspect of the TCL Xess is that it has the Amazon Alexa Voice Service built-in, allowing control of other compatible smart devices in the home. Unfortunately, I haven't had the chance to give the TCL Xess a run through; but it's definitely a stunner of a smart home hub. At $450, though, it doesn't come cheaply.
Not everything in a smart home needs to be "connected" as long as it's automated and saves time and—more importantly—energy. (My motto has always been "never do something yourself that you can get a machine to do for you.") I'm not personally fond of cats, but the rest of my family is, which explains why we have three cats in the house. For some reason, I'm tasked with emptying the litter box whenever it requires attention. Like the cat in the picture, I'm a little puzzled as to how the CatGenie Self Washing Self Flushing Cat Box actually works. That doesn't make me want it any less, though. Nor does the $269 price tag. This thing supposedly automatically flushes cat "waste" away—and then WASHES ITSELF CLEAN. Or, as the company says, "It acts like a cat box, cleans like an appliance, and flushes like a toilet." CatGenie promises: "You'll never touch, smell, breathe, buy or carry cat litter ever again." Sold! It does require connection to a cold water line (with a supplied T-adapter) and needs 120-volt AC, but who the heck cares? CatGenie has the Tabby Package version available now for $219. (That's $50 off the regular price.)
Even though it's a sales pitch, I can't resist including this video from CatGenie showing how the thing works. This is Nobel Prize winning work…
I had a few other suggestions, but I'm sorry. I have to go. I think I hear the UPS guy dropping off my new CatGenie at the front door…