Kenwood's DMX7704S Brings Apple CarPlay and Android Auto to Your Dashboard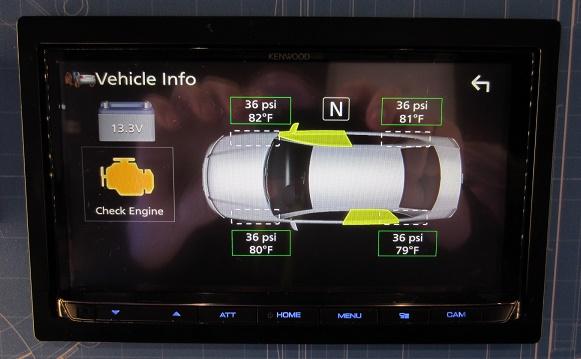 The DMX7704S is a fine example of the latest generation of aftermarket car audio technology. It is a Digital Media Receiver, designed to play streaming and stored content through your car's sound system. Notably, it incorporates Apple CarPlay and Android Auto; integrating with your phone, the software makes the unit's firepower easily and safely manageable.
With CarPlay and Auto, you can get directions, make phone calls, send and receive messages, and listen to music with simple touch or verbal commands. That makes operation more convenient and infinitely safer. With CarPlay, for example, Siri is available for conversations, and iPhone maps and navigation are displayed on the unit's 7-inch screen. The phone is connected via USB cable.
With the introduction of the DMX7704S, Kenwood has expanded its support for CarPlay to 9 receivers and Android Auto to 5 receivers. However the DMX7704S is notable because it is Kenwood's first mech-less multimedia receiver. In other words, despite the "multimedia" nomenclature, there is no CD transport; whether streaming or stored, playback is via non-physical media. But the unit is hardly devoid of source opportunities. It also supports HD Radio, Bluetooth, and SiriusXM (with the addition of the SiriusXM SXV300 tuner and antenna sold separately).
The DMX7704S is a double-DIN unit with a new clear resistive display panel; an electronic viewing angle adjustment helps to accommodate different mounting angles. Interestingly, an app lets you also view source information on your phone's screen. The unit allows two cameras to be connected, and it automatically switches the display to view the rear camera when the vehicle is placed in reverse. The front camera can accommodate a new Kenwood DRV-N520 dash cam.
The receiver is compatible with the iDataLink Maestro vehicle interface which delivers vehicle status information such as data from parking sensors, tire pressure monitors, and vehicle trouble codes. As you might expect, the receiver supports 192-kHz/24-bit WAV, as well as DSD, FLAC and AAC. A 13-band equalizer and digital time alignment let you tailor the audio signal to your vehicle interior. Audio output is distributed via three sets of 4-volt pre-amplified outputs.
The DMX7704S will retail for $550, and is scheduled to ship in February.