Kempler & Strauss Debut the X2: Tiny Wireless Speakers That Go Anywhere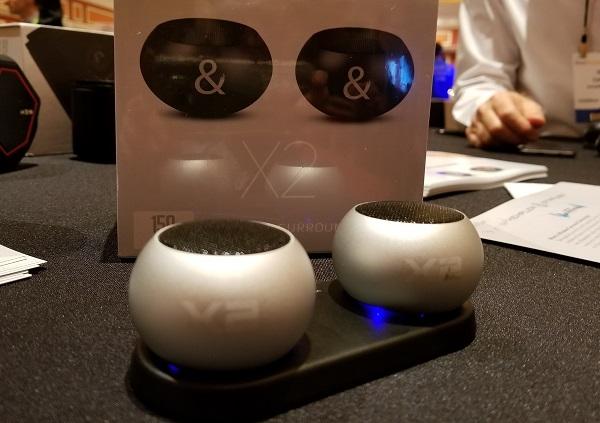 The problem with many portable speakers is that, well, they're just not very portable. The X2 speakers from Kempler & Strauss are
so
small and portable that while they might be able to go anywhere, they're so small they might get lost.
The X2 is a pair of wireless Bluetooth speakers, each about the size of a mini donut.  Hmmm. Donuts….   They have an aluminum body and titanium diaphragm drivers that give it a luxurious feel, far more than their $90 (currently $40 on Amazon) price tag implies. They can be used as a stereo pair with Bluetooth 4.2, but the company also has "Wireless Surround" technology that creates a pseudo-surround experience. I'm just excited that a wireless product is available that can create as wide a stereo image as I want just by placing the speakers on either side of my computer screen.
  They weigh a total of 2.4 ounces and come with a magnetic charging base - just get the little speakers close to the charger and they snap into place. It comes with a dual charging cable, travel straps and a power brick.
The frequency response is listed as 20 Hz - 20kHz, and each speaker houses a 450 mAh battery that provides up to 4 hours of playback time. A full charge requires two hours on the charging base. They list a power rating of 150 Watts PMPO, which has little meaning in the real world.  That being said, for $40, they're a great travel speaker. As long as you don't lose them in the bottom of your bag.