KEF Refines and Impresses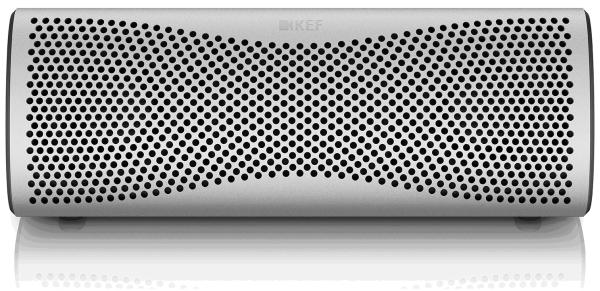 KEF's October 16 press event at CEDIA 2015 firmed up its already formidable loudspeaker lines with new in-walls and in-ceilings, some of them THX certified, as well as refinements of existing products and new portable audio goodies.
Perhaps the British speaker maker's most distinctive trait is its embrace of coaxial drivers, with the tweeter in the center of the woofer, producing a true point-source effect. KEF calls this the Uni-Q driver array. One highlight of the press event was that all KEF product lines now use the same generation of Uni-Q. So no matter what you buy, you get the latest iteration of the KEF sound.
The Ci4100QL-THX is a THX Select2 in-wall featuring Uni-Q. This model has one four-inch Uni-Q array plus three four-inch woofers in an ultra-thin bezel. Marine-grade construction involves UV coating and 1200 of salt spray testing, so these guys could survive aboard a yacht. Price $600/each.
Another new THX Select2-certified product is the Ci200QSb-THX in-wall or in-ceiling subwoofer. This sub is sold in pairs and can operate in passive or active mode. In passive mode, they can be wired in parallel with KEF Ci speakers. Four of them operating in active mode with KEF's 250-watt KASA500 subwoofer amp meet the THX Select2 spec. Raise the number to eight in active mode and you're up to THX Ultra 2. Price $800/pair. The non-THX version of this sub, Ci200TRb, sells for $425/each.
The Uni-Q driver array is featured in the new E-Series in-ceiling line. It comes in three sizes: five-inch (Ci120ER, $250/pair), 6.5-inch (Ci160ER, $300/pair), and 8-inch (Ci200ER, ($350/pair). The line features ultra-thin bezels and is marine-grade.
KEF's thinnest architectural speaker ever is the Ci160TS, a 4.5-inch square in-ceiling speaker that joins the existing round Ci160TR. It has a mounting depth of just 36mm, or about an inch above the surface of the ceiling, and combines a flat diaphragm derived from the T-Series on-walls with another distinctive KEF design feature, the tangerine waveguide, which tailors frequency response and evens out dispersion. This is another marine-grade speaker. Shipping in December for $325/each.
Speaking of the tangerine waveguide, it has been added to the Muon Stealth Edition floorstander. If you bought the previous Muon and are suffering from buyer's remorse, KEF is willing to send an engineer anywhere in the world to upgrade your speakers for $9000. For those starting from scratch, the new version sells for $220,000/pair.
While KEF's much-loved LS50 monitor is not new, it does come in three spiffy new finishes for the holiday shopping season: red with black drivers, black with blue drivers, and our pick hit, grey with copper drivers.
No speaker line is complete without some sweet wireless speakers. The MUO Bluetooth speaker (pictured) springs from the loins of Ross Lovegrove, who also designed the monumental Muon floorstander. That may be why the MUO's extruded aluminum enclosure is a miniaturized horizontal variation of its larger sibling. Available colors include horizon gold, storm grey, light silver, neptune blue, and sunset orange. A Uni-Q driver array and your choice of mono, stereo, or dual-connect party modes fill out the package, which sells for $349.
If you prefer your wireless speakers in pairs, the EGG Wireless Digital Music System offer two Bluetooth satellite speakers on pedestals with Uni-Q drivers, tangerine waveguide, built-in amp, and 24/96 DAC with USB input. These multi-connection speakers can serve the desktop or stream anywhere in the home. They've even got a sub input. Available in frosted blue, white, or black for $500/pair.
KEF also showed M400 ($250) and M100 ($150) headphones and new finishes for the existing M500 ($300).