Kaleidescape: This is who we are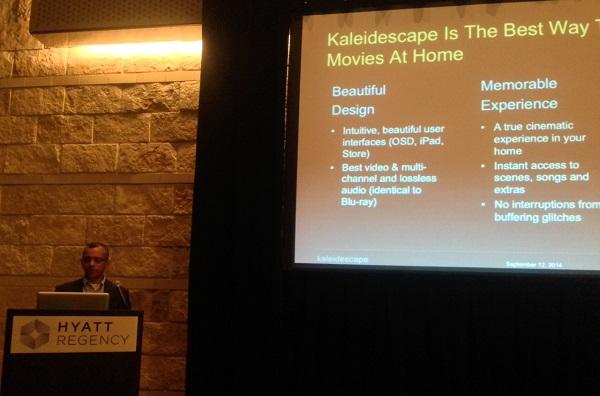 "We're religious about the experience and the function and design of our products, " Kaleidescape's CEO, Cheena Srinivasan, stated, reminding dealers about who Kaleidescape is and "where Kaleidescape belongs in this world with all of the other competing devices and substitutes, and the technology directions where we are headed."
Kaleidescape is the manufacturer of premier movie servers and Srinivasan said the company builds beautiful products designed to deliver a highly functional and unique experience. At the company's first CEDIA EXPO they took away the video product of the year award and at last CEDIA they took away the video product of the year award.
Srinivasan continued by saying Kaleidescape has worked incredibly hard over the past 13 years to build a fabulous company and brand and success is not always measured in dollars. In Kaleidescape's case success is measured in the hundreds of thousands of smiles the company's products have produced in over 80 countries around the world. "We don't believe in making small hockey pucks," Srinivasan stated, "We believe in putting smiles on people's faces. "
Kaleidescape is for customers seeking the best movie watching experience and who are dissatisfied with watching movies in poor quality on their large screen TVs and the average Kaleidescape customer has 506 movies in their home. Srinivasan stressed the company concerns itself with the experience that a user has before and after the movie. "How people decide what to watch with family and friends before pressing play."
"Kaleidescape loves the CEDIA custom installer channel because they integrate Kaleidescape with other high-end products, make magic happen and care about customers post-sale for a lifetime of happy clients," Srinivasan said.
When talking about the company's future, Srinivasan said, "We hear our dealers loud and clear and we're not going to let you down."
The company is announcing the second generation of its unique Movie Store, the only place to purchase full, Blu-ray quality movies. They kicked off the upgrade by adding Sony Pictures licensing to their catalog this week which joins Warner Brothers and Lionsgate Films, bringing a current library to 8400 licensed titles and 1000 TV seasons. Cheena added the company is working very closely with all of the Hollywood studios and "very confident" they will secure rights to all major studios by year-end.
When talking about what was next for the company, Srinivasan stressed 4K and High Dynamic Range are very important technologies for what the company does and they are going to work closely with partners to make this happen. As Internet speed, reliability and video codes continue improving it will help make it possible for Kaleidescape to offer streaming as a way to deliver content. The company is also looking to add support for products at wider price points.