Kaleidescape Movie Server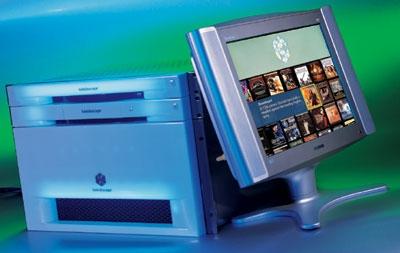 Photo by Tony Cordoza
Not long ago, the idea of ripping music onto a hard drive, where it is automatically sorted by artist, album, genre, and so on, and then having it streamed throughout our home was unimaginable. But now, instead of hunting through stacks of discs for something to listen to, many people are storing their music on PC hard drives or dedicated music servers.
So why should you be forced to enjoy your DVDs in the same old 20th-century manner? Why should you have to search through your movie collection, hoping that the title you want hasn't been misplaced, loaned out, left in the laptop, or scratched beyond playability by your 3-year-old? And how do you manage that library of 100, 200, or 500 titles? How do you remember what movies you have or decide what you want to watch? Or keep the kids from watching your "private" collection?
FAST FACTS
INPUTS/OUTPUTS Server: Ethernet I/O port

DVD Reader: Ethernet I/O port

Movie Player: Ethernet I/O port; RS-232 I/O port; component-video output (switchable interlaced/progressive-scan), composite- and S-video outputs; coaxial and optical digital and stereo analog audio outputs

PRICE DVD Reader, Movie Player, server able to store 160 DVDs, $27,000; with storage for 440 DVDs, $31,900; additional Movie Players, $4,000 each; additional DVD Reader, $3,000

MANUFACTURER: Kaleidescape, Dept. S&V, 339 N. Bernardo Ave., Suite 100, Mountain View, CA 94043; www.kaleidescape.com; 650-625-6100
One answer is Kaleidescape, a new and unique system that does for movies what hard-drive storage has already done for music. It makes your DVDs easier to access, easier to manage, easier to view where and when you want to, and - most important - easier to enjoy.
With most DVDs holding around 8.5 gigabytes (GB), a library of any size would quickly eclipse the storage capacity of even the largest hard drive. Kaleidescape's server solves this problem by using up to 12 bays, each housing a 300-GB drive, bringing storage capacity per server to 3.6 terabytes, or roughly enough to hold 440 DVDs. Larger collections can be accommodated by adding additional servers. And the system is designed with the future in mind, delivering 480i (interlaced) or 480p (progressive-scan) output now but also supporting both 720p and 1080i formats for the eventual storage of high-definition DVD titles.
Best of all, Kaleidescape stores a bit-accurate digital clone of the original DVD. Well aware of Hollywood's hypersensitivity to new technology and how it might be used for piracy, Kaleidescape has taken great precautions to ensure that the stored content is unusable outside the system and can't be uploaded or streamed onto the Internet. The system's only real problem is that it's expensive - very expensive, starting at $27,000.