JVC HD-61FH96 1080p HDTV
We're living through interesting yet complicated times in the video display business. The much-revered CRT is an endangered species, being replaced by a supermarket of different new technologies.
JVC's ILA (Image Light Amplifier) isn't all that new. It grew out of both separate and combined 1980s R&D efforts by JVC and Hughes Aircraft (the latter at first for the military, and later in cooperation with JVC under the newly formed Hughes-JVC Technology Corporation to investigate possible consumer applications). At one time it even used small CRTs (yes!) as the imaging elements, but before long those were changed to more stable, solid-state devices. This put the design on firmer technical ground, even though those new imagers had their own unique set of problems. The process was renamed D-ILA, for Direct-Drive Image Light Amplifier.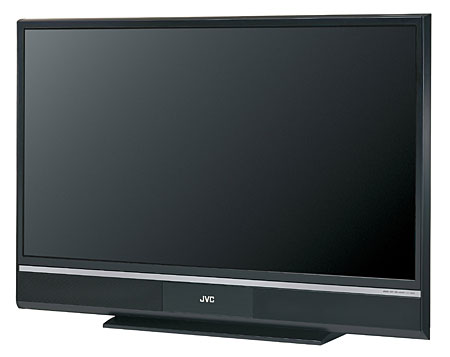 The generic technology name for D-ILA is LCoS (Liquid Crystal on Silicon), and several companies are now building display devices with their own variations on that theme. But JVC was first on the scene with consumer LCoS products.
(For more technical details on LCoS, see our review of the Sony Qualia 004. While there will inevitably be differences between the Sony LCoS designs—which they have dubbed SXRD—and JVC's D-ILA, the basic concept is much the same.)
To further thicken the alphabet soup, JVC now dubs their rear projection D-ILA sets HD-ILA. The average consumer won't be impressed by the D-ILA designation, but most of them (we trust, and JVC fervently hopes) have some idea of what HD means.
The Cook's Tour
The 61-inch HD61FH96 ($5499) is one of three JVC HD-ILA sets sporting 1080p resolution (1920x1080, progressive), though like most current 1080p sets it will not accept a direct, native 1080p source signal at its inputs. Unlike DLP RPTVs, all current LCoS (and LCD) rear projection sets employ three separate LCoS chips, one each for red, green, and blue. (Philips did attempt to market a single-chip LCoS design with a color wheel a couple of years back, but it was ultimately discontinued).
The set has both ATSC (DTV/HDTV) and NTSC (standard definition analog) tuners, together with CableCARD capability. CableCARD's setup and functionality will likely vary somewhat with the specific cable company providing it, so it was not tested for this review.
The JVC provides a full set of input terminals, including two HDMI inputs, two component inputs, and two IEEE 1394 (i.LINK) terminals for use with similarly-equipped source and/or recording devices, such as D-VHS decks.
Video 1 may be configured as a so-called Smart Input that allows simultaneous It is designed for use with an AV receiver (not all receivers will be compatible with it) to minimize the switching required on the television. While this feature is useful, it will be unnecessary with many newer receivers and pre-pros that provide video switching with source conversion (converting an S-Video source to a component output, for example).
The set's HDMI input will extract the sound from most HDMI sources and route it to the set's on-board sound system. There's an audio input that allows the JVC's sound system to perform as your home theater's center channel, an application we don't recommend in a serious home theater setup. Both two-channel analog (fixed or variable) and 5.1-channel digital (optical TosLink) audio outputs are also provided for carrying the sound from the set's on-board tuners to an external sound system.
There is also a V-Chip (parental) control feature to lock-out unwanted channels, though it takes seven pages in the owner's manual to describe setting it up. There's also a front panel lock that blocks out the on-set controls to keep small fingers (or curious, larger ones) from messing up your settings.
A Reset option on one of the on-screen menus returns all of your adjustments to their factory defaults. Danger, Will Robinson! Fortunately, there's no corresponding Reset on the remote control where it may be pushed by accident. Nevertheless, I always recommend writing down all the control settings once you have finalized your setup. Some day, someone will invariably mess with them.
The JVC's sound system provides two 4" full-range speakers, 10W per channel, and Bass, Treble, and Balance controls. It also has other features, like BBE (claimed to improve speech intelligibility), A.H.S.+ (Advanced Hyper Surround—a simulated surround mode), Hyper Bass, and Smart Sound (a volume leveler). Rather confusingly, these are not available through the Menu button, but are accessed instead from a separate Sound button on the remote. They are fun to play with, but like all such enhancements they rarely, in my opinion, produced any genuine improvements in the sound.
There's also, of course Dolby Digital decoding, which extracts Dolby Digital from a DTV transmission as received by the set's on-board tuner. It provides 2-channel DD for the set's sound system or its analog L/R output. The only way to obtain 5.1-channel sound from the set is to connect its digital output to an outboard receiver or pre-pro.
The set's sound system is more than adequate for casual use, and may be best described as "pleasant" for those times when you don't want to turn on the external sound system that most UAV readers will certainly have. There was no deep bass, and any attempt to produce it with hikes in the volume control, bass control, or Hyper Bass merely generated rattles in the cabinet. But the sound was not boomy (provided you don't use Hyper Bass), and dialog sounded reasonably natural and uncolored.
Picture Me This
Apart from the usual video controls, JVC provides a number of those creative picture enhancements that are of marginal value at best when you're aiming for the best (meaning the most accurate) video setup. Most of these specialized controls are not well explained in the owner's manual. Color Management "ensure[s that] dull colors are compensated to produce natural hues." Dynamic Gamma is said to improve detail in both dark and bright areas. Smart Picture "detects the APL (Average Picture Level) and adjusts the contrast suitable for what you are watching." There are also two types of noise reduction, Digital VNR for general noise reduction (four settings: Auto, Min, Max, and Off), and MPEG NR (On or Off) for the block and mosquito noise sometimes encountered with the MPEG video compression used on DVDs and DTV.
The effects of all of these adjustments are relatively subtle most of the time. The noise reduction was useful with some material, and does not aggressively soften the image. But I rarely used it, and never in any of the serious viewing reported on here. Color Management, according to JVC, operates on flesh tones plus red, yellow, green, and blue (its full name is 5-Point Color Management). I found it unnecessary in a properly calibrated set.
A "Natural Cinema" selection turns on 3/2 pulldown for film-based material. It provides three options: Auto, On, or Off.
There are four pre-programmed video modes: Standard, Dynamic, Theater, and Game. As with the Sound adjustment, these modes are not accessible through the Menu button on the remote. You must push the remote's Video Status button to call up the mode selection menu.
While I searched diligently for the Super Cinema Mode mentioned as a feature of the set on the JVC website, but no such mode was found on any of the user controls. Perhaps it was renamed something else in the time between promotional copy and set production.
Of the four available modes, I found Theater to be the only one useful for serious home theater viewing in subdued room lighting. The other modes look positively garish after you become accustomed to the Theater setting (and even Theater requires some additional tweaking of the user controls for optimum performance). But some users may find Standard mode useful in a brightly lit room.
The Dynamic Gamma and Smart Picture controls both affect the image in ways that vary with both the video mode selected and the average picture level. I checked their effect in the Theater mode by viewing paused, still images from various scenes from a variety of programming. The image was never seriously degraded by these adjustments, but they rarely, in my opinion, improved it. I left them off for these tests, as I have with most other "intelligent" controls on past sets. There are two selectable color temperatures (High and Low) in the user menus, plus Theater Pro. The latter is selectable directly from a dedicated button on the remote control, and is supposedly set up to an accurate D6500 color temperature. It was respectably close in my sample (see "Tests and Calibration") but not as precise as you can get from a good aftermarket calibration.
There are six different aspect ratio settings, though not all of them are accessible with all sources. I did not experience any unusual problems in finding the correct aspect ratio for various images, apart from the distortion you often see in those letterboxed widescreen (non-anamorphic) DVDs played back from a DVD player's HDMI output in upconverted 720p or 1080i. As always, this was corrected by changing the HDMI output of the player to 480i or 480p.
But the different aspect ratio modes are rather confusingly named, and not well explained in the manual. You may find yourself doing some experimenting to find the right one for any given program. Any image that you know to be round in the program you are watching—the Earth at the beginning of any Universal film, the circle of stars around the mountain in the Paramount Logo, for example—will be useful in getting this right.
The screen does not have a clear, protective layer. While this suggests that reasonable precautions be taken in its use (no frisbee playing in the same room!), it does make the big screen less susceptible to reflections.
Off-axis viewing held up well to 30-45 degrees off-axis horizontally. There was minor hot-spotting, but primarily in the vertical plane. I do recommend a viewing height within a few inches of the center of the screen. The screen does have a subtle sparkly quality occasionally visible (but not a distraction) from certain viewing angles on some brightly lit images. This is often a characteristic of the high gain screens used in most rear projection sets.
Tuning In
There are two RF inputs for the JVC's on-board tuner: ATSC/Digital Cable In and 75Ω. The manual indicates that the preferred setup involves using a two-way splitter to connect a cable or antenna feed to both of these inputs. However, I had the best results with an antenna connected to the ATSC RF input for over-the-air HD, and my cable service connected to the 75Ω RF input for standard definition cable. I was then able to pick up all the analog cable channels with the A/D button on the remote set to Analog, and DTV and HDTV stations over-the-air with the A/D set to Digital.
At no time was I able to pick up standard digital cable channels, or in-the-clear (non-premium) DTV or HDTV channels from the cable feed to the set in either the A or D positions of the remote's A/D button. These are apparently only accessible with an outboard cable box or CableCARD. I had been able to pick up at least two high def channels—the LA PBS station, KCET, and the LA CBS affiliate, KCBS (though only a few standard digital cable channels)—from a direct cable connection to the HP md5880n DLP set.
In my difficult reception area (with a low mountain ridge between me and most of LA's transmitting antennas atop Mt. Wilson), the JVC's ASTC tuner brought in, via a rooftop antenna, ABC, CBS, and an Orange County PBS station in HDTV, plus a few less important channels. But it did not pick up as many channels as the tuner in that HP DLP set, which also picked up ABC, NBC, and both the LA and San Bernardino PBS stations. I suspect that the JVC's tuner will perform far better in a less challenging reception area than mine.
Help Me Rhonda!
The owner's manual, while thorough, is poorly organized. The individual operational instructions are clear enough (apart from the typically whacky explanations of what the various video adjustments do), but they don't flow in a way that will encourage the average owner to get past the first few pages during set up or refer to the manual later when problems arise.
LATEST VIDEO