JVC Unveils 5th Gen eShift Tech in New Projectors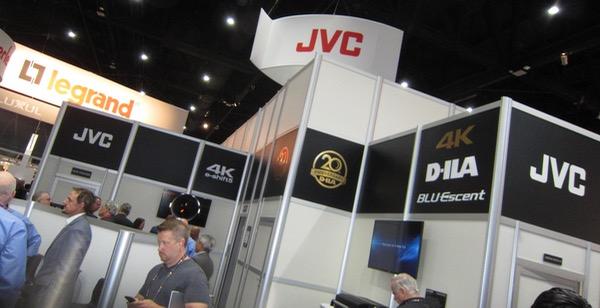 JVC announced three new projectors, or six if you count the fact that their Procision Series is identical in performance and price to the Reference Series (the difference is that the two lines are sold through different sales channels, either retail dealers or custom installers). The major change this year is that their eShift technology, which produces near 4K (some call it faux K) through pixel-shifting, is now in its fifth generation: eShift5. It's now said to sample each pixel individually prior to performing the processing required for the shifting process.
The new models are the DLA-X590/DLA-RS440 (Procision/Reference Series ) at $4,000, the DLA-X790/DLA-RS540 at $6,000, and the DLA-X990/DLA-RS640 at $8000. All will be available by the end of this month (September). There's also a special edition of the latter model, the DLA-20LTD, in red (price TBD) to celebrate the 20th anniversary of JVC's DLA designs.
A three-year advanced replacement warrantee on any of the models is available if the projector is purchased through an authorized JVC USA dealer.
A UHD/HDR demo of the $8,000 model on an 8-foot wide Stewart Studiotek 130 screen was impressive, though a scene from Fate of the Furious was more convincing than the final battle in The Great Wall. While the latter's color was striking, the HDR looked like it was being pushed a little beyond the projector's comfortable HDR limits (projectors, with their limited brightness relative to flat screen sets, can't match the latter in peak HDR highlights).