Just Call Them Monster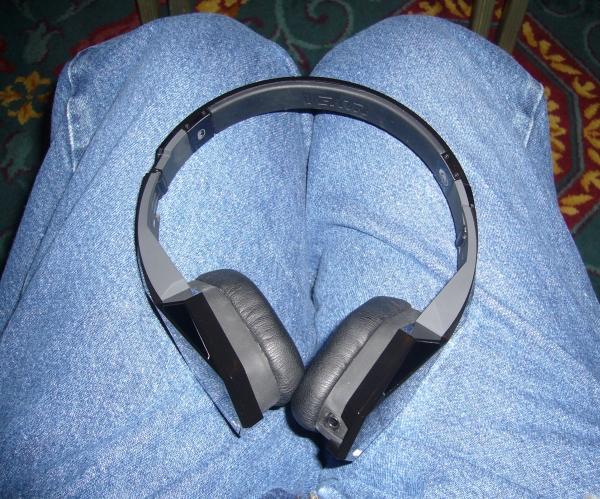 The big news from Monster Cable is that Monster Cable is no longer Monster Cable. It's just Monster, period. For the first time the company's well-attended press event made virtually no mention of cable products (aside from a press release on ISF-certified HDMI cables). We're guessing Monster is not withdrawing from the still lucrative cable market. It's just that Head Monster Noel Lee has found something even more lucrative and au courant: designer headphones.
The high-concept headphone announcements came thick and fast. Musician tie-ins came via Nick Cannon, Xzibit, and Verdine White of Earth, Wind & Fire. Then models showing off headphones with high-fashion tie-ins strode up and down the center aisle of the venue as though it were a catwalk. Among them was a set of full-size cans wearing the Diesel imprimatur, pictured above, and yes that's my lap. "They sound even better when you plug them," Dielsel's Stefano Rosso said of the VEKTR 'phones (this cherrypicking of quotes doesn't do justice to his amusing and lively speech). Despite the shiny bling of the Diamond Tears Edge line and a proliferation of colorful interchangeable in the noise-canceling Inspiration line, perhaps most poignant product was the iSport LiveStrong line of earbuds which are said to help cancer survivors "connect with music."
The beginning of the press conference discussed the Monster Power Control App which functions with PowerCenter powerline conditioners, allowing them to be programmed via smartphone to shut down entire home theater systems and other appliances. They are green in two respects: they'll save you some green and do it by reducing pointless energy consumption. Monster also hopped on the network audio bandwagon with the grille-changeable Monster Micro wireless speaker (with speakerphone capability) and Monster StreamCast transmitter/receiver kit which can send four uncompressed streams to up to a dozen zones. You can find more details here.