May 2014 New Gear
Grace Digital Encore Wi-Fi Music Player
Tied of the endless stream of ads on commercial radio? The Encore Wi-Fi music player might look like an old tabletop radio, but it's a sophisticated Internet radio/media player set up to wirelessly stream music from your home network (including 96/24 FLAC files) or from one of more than 18,000 radio stations around the world. You can also access premium services such as Pandora and pay services such as SiriusXM Internet Radio.
See What You Hear:
Station IDs or album art is displayed on a 3.5-inch color display, and you can search for stations by name, location, genre, and store up to 110 of your favorites for quick recall. A remote is included or you can download an iOS/Android-compatible remote control app. Price: $250
Grace Digital • (866) 446-0961 • gracedigitalaudio.com

Sonance Visual Performance Series Soundbar
Soundbars are a great solution for people who want surround sound without the hassle of running wires and hooking up multiple speakers, but, aesthetically speaking, they don't always line up with the TV, which can look awkward. Short of taking drastic measures, what's a décor-conscious sound lover to do?
Call Me Stretch: Sonance's Visual Performance Series soundbar has an adjustable enclosure that can be lengthened or shortened to match the width of your TV. No tools required. The passive LCR design features three driver complements, each comprising a 4-inch midrange with a coaxially mounted 1-inch aluminum tweeter and two 4.5-inch Kevlar/Nomex-laminated woofers—all squeezed into a cabinet that's only 2.5 inches deep. Price: SB46M for 50- to 65-inch TVs, $1,750; SB46L for 70- to 80-inch TVs, $2,000
Sonance • (800) 582-7777 • sonance.com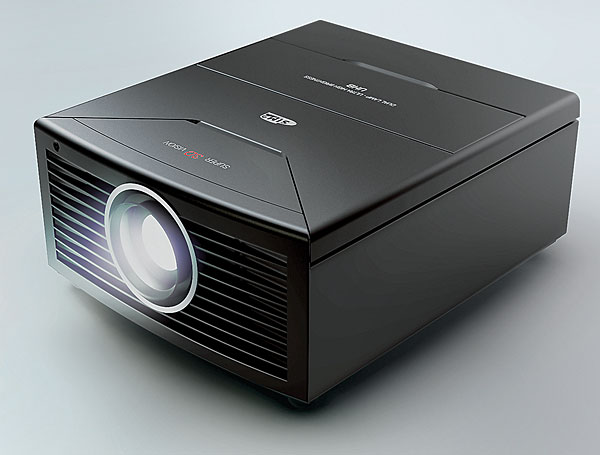 Sim2 SIRO 2014 DLP Projector
Designed to transform a large media room into a vibrant home entertainment paradise, the SIRO 2014 is a 3D-capable, single-chip 1080p DLP projector featuring auto calibration and dual lamps with 750 watts of firepower and improved "light-tuned" optical elements.
Light Parade: With all that output, the SIRO can light up screens with a rated 7,000 ANSI lumens, a level of brightness that downright encourages daytime viewing. The company says high brightness is achieved while maintaining "healthy contrast"; life expectancy of those dual flamethrowers is 2,000 hours apiece (standard power mode). Zoom and focus lens adjustments are motorized, and the projector is IP addressable, meaning it can be controlled, monitored, and serviced via the Internet. A choice of five lenses is available. Price: $20,000 (standard lens) Sim2 • (954) 442-2999 • sim2.com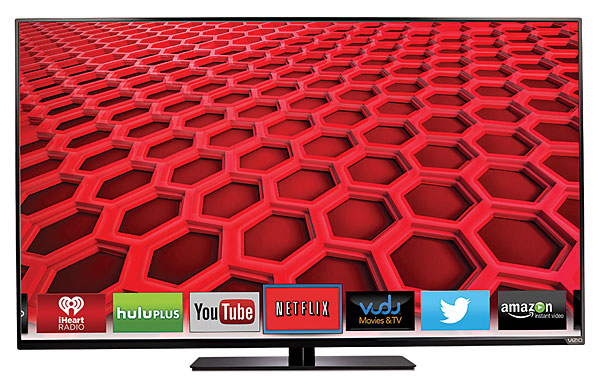 Vizio E550I-B2 LCD HDTV
The E550i-B2 has a lot to offer for its modest price: a 55-inch screen, built-in Wi-Fi, four HDMI inputs, a revamped user interface, a second-screen feature for flicking content between the TV and a phone or tablet, and Vizio's Internet Apps Plus platform that provides a direct link to online movies, TV shows, music, and premium apps like Netflix.
Secret Weapon: Vizio has stepped up its game by adding full-array LED backlighting with local dimming, a feature you don't usually find at this price and one that has the potential to significantly enhance picture quality. In this case, 12 dynamically con- trolled zones of LED backlighting are distributed across the screen in an effort to improve light uniformity, contrast, and detail. See our review here. Price: $730
Vizio • (877) 698-4946 • vizio.com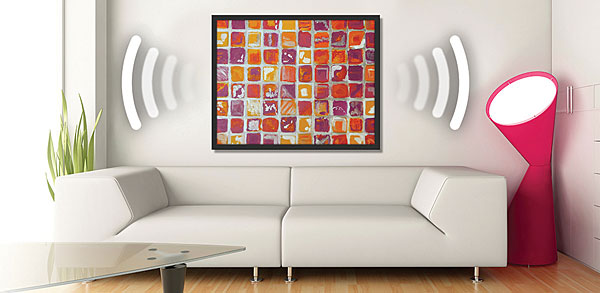 Soundwall Art Speaker
Speakers that mount in walls are huge in the world of custom A/V installation, but as unobtrusive as they are, you can still spot those grille covers. Ready for something truly stealth—like a speaker that masquerades as artwork?
Living Art: Soundwall art panels are ready to come to life whenever you get the urge to stream tunes from your phone, tablet, or home network. Left- and right-channel exciters embedded in the back of the panel (and powered by a built-in 2 x 25-watt digital amp) vibrate the foam-core canvas to produce sound. The system supports AirPlay wireless connectivity and also has an RCA input and subwoofer output. A variety of artwork is available in five sizes, or you can provide your own art. Price: $949 to $2,499, depending on size.
Soundwall • info@soundwall.co • soundwall.co