JBL's Playlist and BassPro Go Give You Music at Home, in the Car, and on the Go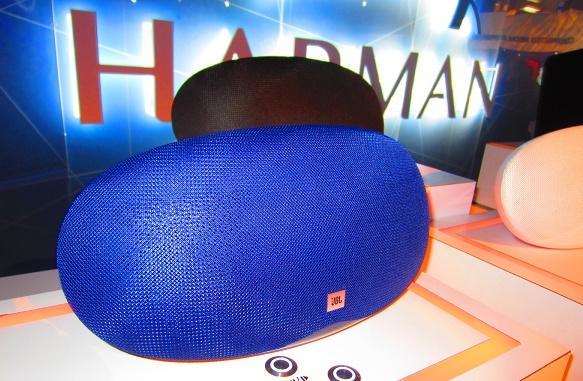 The Playlist (pictured) is a wireless home speaker but unlike most of its countless brethren, it has Chromecast built-in, and its D/A converter supports 24-bit/96-kHz high-resolution audio. The BassPro Go, uniquely, is designed to function as a car subwoofer, as well as a portable speaker.
The Chromecast feature in the Playlist works via WiFi to allow quick access popular music sources such as Pandora and Spotify without having to set up Bluetooth pairing. This is particularly important in many applications where Bluetooth range is insufficient; WiFi range is typically greater.
With the Playlist, you hit the Cast button for a music service running on your phone. Additionally, multiple devices can be connected at one time. For whole-house listening, you can connect the Playlist to other Chromecast speakers such as Google Home; you can control the music by voicing commands on Google Home speakers playing through Playlist.
The high-res D/A converter is critical here because the cloud source can be high-res, and the WiFi connection can preserve the resolution. Additionally, because the speaker has dual WiFi, it can also operate as a standalone speaker without being tethered to a phone. Finally, if Wi-Fi is not available, music playback can be accommodated via Bluetooth or 3.5mm input.
The Playlist will retail for $150 in three colors (black, white and blue), and will be available this Spring.
Obviously, a good car audio system has a subwoofer. Ditto a good portable audio system, although most of them are skimpy on bass. The hybrid BassPro Go can be used in a vehicle using the docking system; for example, the dock can be mounted in the trunk. It adds a measure of bass response, for example, to a traditional sound system. The unit contains a 5.5-inch sub driver (40 – 160 Hz) as well as two passive 5.5-inch radiators. You can customize EQ settings to optimize the sound for your car.
The BassPro Go can be undocked (no tools required), and operated as a portable full-range Bluetooth speaker with two 1.5-inch drivers (200 Hz – 20 kHz). It provides 15 hours of play time, and you can connect up to three devices. The speaker also features JBL Connect+ technology that can wirelessly connect multiple JBL Connect-enabled speakers. The water-resistant (IPX7) case adds a measure of practicality. Also, the speaker can be used to charge other devices via USB.
The dual functionality of the BassPro Go adds a bit to the typical price. It will retail for $600; it will be available this summer.