Jabra Solemate Mini: Good Things Come in Small Boxes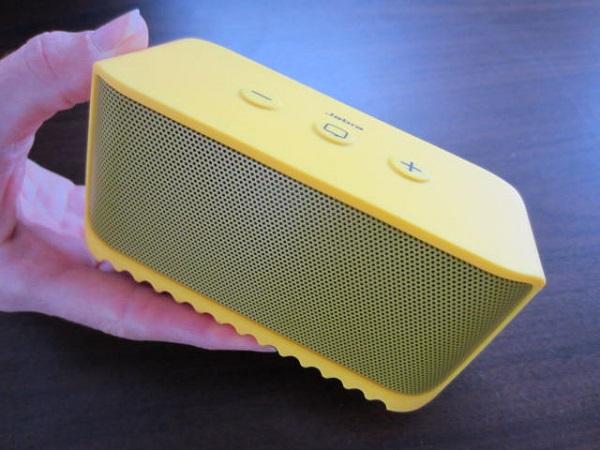 The CES can be exhausting. After awhile, after thousands of linear feet of aisles, the products start to blur. The only products that stand out are the brightly colored ones. Oh! What's this? The Solemate Mini. Small, cute, wireless. And, it's BRIGHT YELLOW.
First impression: The form factor is very cool. A handful of rubberized case with an anti-slip bottom. Funky. There is no feature-creep here: the Solemate has 3 buttons on top for pairing (and answer/end/reject/redial), and volume up and down (and mute). On one side you'll find power, wired input, microphone, and mini USB for charging the unit. If your Bluetooth is on the blink, there is a mini cable neatly tucked into the bottom of the case. A mini USB cable is also included.
It's wireless so operation is simple: Power up, then hit the Bluetooth pairing button. A little man inside the Soulmate announces that "The Solemate is connected." He can also announce battery status. Nice. Jabra tells me that the Bluetooth range is up to 33 feet. Also, the battery is good for 8 hours of playback time, with a standby of 90 days. It takes about 3 hours to fully charge the unit. Measures 4.9 x 2.1 x 2.4 inches. Weighs 10.4 ounces.
The unit has two speakers along one side. Audiowise, it sounds reasonably okay. Yes, the speakers are tiny. Yes, the amplifier is tiny. But in a world overloaded with tiny speakers, this one is actually not bad. Very clean, and plays surprisingly loud. A nice little desktop, picnic or even dashboard speaker. As with many units, the Soulmate has NFC and it doubles as a speakerphone. Voices were clearly intelligible on both ends.
Jabra tells me that the Soulmate is resistant to sand, dust, sun, and moisture, but I can't politely verify that at the booth. Oops, due to CES fatigue, I dropped the Soulmate on the table. The rubberized case saved me from a "You break it, you buy it" scenario. Speaking of buying, it's priced at $100. It will be available in early 2104, and comes in in black, red, and blue. Did I mention that it also comes in BRIGHT YELLOW?!?