The iUi Design Bass Jumper takes Sound to New Heights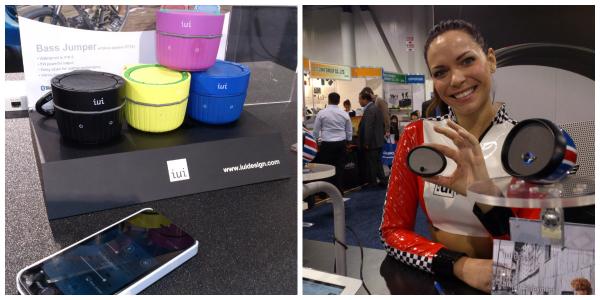 iUi Design's Bass Jumper is an adorable little speaker designed to clip onto a backpack or parachute pack ready to leap off any building, antenna, span, or earth - the four elements that make up B.A.S.E. Jumping. A rather clever play on words, don't you think?
The Bass Jumper portable Bluetooth speaker is bump-proof, water-resistant (IPX5), and very, very portable. They are calling it the "no-excuses, no-weather-too-foul outdoor warrior." I'm calling it pretty fun. It's small enough to go anywhere and with a built-in carabiner, it's easy to take it along. It has NFC and Bluetooth pairing along with a microphone for your phone. You can daisy-chain multiple units together, although you can't get stereo separation - just multiple mono units. With a USB-rechargeable battery that can play for up to 10 hours, the Bass Jumper is ready for your most wild adventures.
Also new from iUi Design is a MINI Cooper Mirror BoomBox ($150). It's designed to look like the side-view mirror from a MINI Cooper, one version is complete with a mirrored touchscreen. Not sure how appealing this one is to the general non-MINI public, but it will have a small following. (Get it - MINI, small following?) With Bluetooth and NFC, 8 hours of playback, and 8 watts of power, this isn't a toy, but a car enthusiast's ideal speaker.
Both products have small niche markets, but both make a pretty big first impression. For me, I'll use the built-in carabiner on the Bass Jumper to attach it to my backpack on my next hike. But I'll keep both feet securely on terra firma.
LATEST VIDEO