The Lion, the Witch and the Wardrobe—Disney
Video: 4
Audio: 5
Extras: 5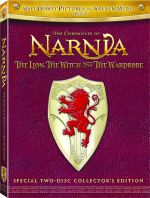 As I watched The Lion, the Witch and the Wardrobe and made my way through the new Special Two-Disc Collector's Edition DVD, there was something so familiar about it all. Maybe it was the fact that I've read C.S. Lewis' book several times in my life, and director Andrew Adamson (Shrek) wisely chose to remain faithful to the original story, fleshing out certain details but never embellishing. Maybe it's the archetypal good-versus-evil theme or perhaps the Christ allegory: A powerful but gentle hero chooses to sacrifice himself to fulfill the law and save others. Or maybe it was just so darn similar to The Lord of the Rings in its themes, music, locales, special-effects artistry, and even its DVD packaging.
Given the film's many diverse and beautiful landscapes—from New Zealand hillsides, to frozen forests, to 1940s London—I had high hopes for the 2.35:1 anamorphic transfer. Unfortunately, I came away a bit underwhelmed. In general, the picture looks good. It's a clean transfer with no blatant flaws, but it lacks that extra bit of detail and color that produces a truly dazzling image. The soundtracks, offered in DTS and Disney's special English 5.1 Home Theater Mix, don't disappoint. Dialogue, music, and surround ambience blend wonderfully, and the climactic battle has all of the elements of a fine demo scene.
In assembling the bonus content, Disney seems to understand that its audience is closer to The Lord of the Rings than it is to Snow White. There are no games or other novelty extras, and it takes a focused enthusiasm to make your way through the extensive package. Accompanying the film on disc one are two full-length commentary tracks (one with the director and four stars, one with the crew) and a pop-up trivia feature, plus a short blooper reel. Disc two divides its content into two areas: "Creating Narnia" dissects the filmmaking process; "Creatures, Lands, and Legends" examines the mythology of Narnia, from creatures, to geography, to a time line of events. Disney also offers single-disc widescreen or full-screen versions of the movie, with the disc-one extras.
While familiar, The Lion, the Witch and the Wardrobe is also rare in this modern filmmaking age in that it's happy to move slowly, it doesn't throw out many one-liners, and it relies as much on human artistry as on computer-generated effects. It may not grab you instantly, but it will impress you more with each viewing.