The Blues Brothers 25th Anniversary Edition—MCA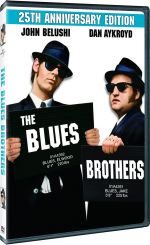 The Blues Turns 25
At least the music never gets old.
Video: 3
Audio: 3
Extras: 3

I have a confession to make: Until I reviewed this 25th Anniversary Edition DVD, I'd never seen The Blues Brothers all the way through. I always come across it on TV about halfway through, around the part with the big concert and subsequent chase. As I now realize, I was catching the best part. In its entirety, The Blues Brothers just didn't wow me. The musical sequences are fantastic, and the interplay between Dan Aykroyd and John Belushi is classic. But the plot that moves us from one musical performance to the next is slow and uneven—a word that also sums up the quality of the audio, video, and bonus content on this DVD, which isn't that different from the 1998 Collector's Edition.
The film feels about 20 minutes too long. Coincidentally, the extended director's cut adds 15 minutes of content that was doing just fine on the cutting-room floor. This double-sided disc also includes the original theatrical release on side two, but you only get a stereo soundtrack to accompany it. Both the 1.85:1 anamorphic video and the Dolby Digital 5.1 soundtrack on side one fluctuate between great and mediocre. Grainy, muted scenes follow clean, well-detailed ones, and some scratches are still evident in the print. Fittingly, the musical numbers sound rich and full in 5.1, only to be followed by tinny, flat dialogue sequences. Perhaps that's why the plot-oriented portions didn't work as well for me—they just didn't receive the same care.
The extras package is similarly schizophrenic. It has a couple of gems: the hour-long behind-the-scenes documentary from the 1998 DVD, a "Remembering John" featurette, and a musical-highlights feature that lets you skip the plot altogether and jump to your favorite performances. It also has some duds, most notably the 2005 concert footage of the Blues Brothers on tour, with Jim Belushi. The audio quality is poor, Jim isn't John, and Dan has gotten old; little of the energy that made the original Blues Brothers so popular remains. Also, the absence of a commentary track is disappointing.
I enjoyed The Blues Brothers. I really did. But, in the end, I put it in the same category as Caddyshack and Rush songs—women may appreciate them, but men absolutely possess them.