Is it 4K Yet?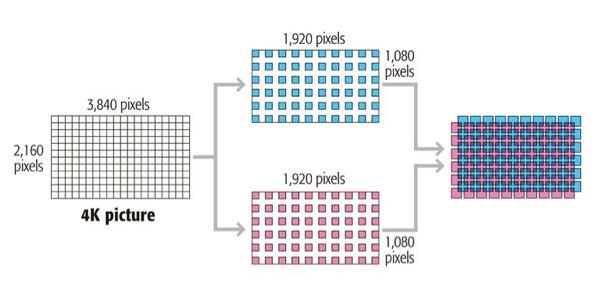 Any flat screen TV advertised as 4K will actually display the full 8 million pixels in a 4K (3840 x 2160) source. You can't be certain about how well it will do a wider color gamut or high dynamic range—the other keystones of Ultra HD—but it will put 8 million discrete pixels on the screen. Whether or not the 4K source material is actually true 4K from the camera to your Ultra HD disc is a different issue for another discussion.
But with projectors there are two versions of 4K resolution, the professional 4096 x 2160 (this is what you'll see in the multiplex), and the consumer 3840 x 2160. The latter was chosen because it's a simple 2-times multiple of our HD format's 1920 x 1080 (often referred to as Full HD). But the shorthand of 4K is used in referring to both, rather than a clumsier 4K and 3.8K. We could ignore 4096 x 2160 for this discussion if not for the fact that Sony, which offers the widest range of Full 4K projectors (more in a minute as to what I mean by "Full 4K") has decided to use 4096 x 2160 imaging chips for its consumer designs. Practically speaking, however, this is a non-issue; those projectors merely leave 128 pixels blank at the left and right of the picture when displaying consumer 4K material. Those unused pixels disappear into the borders when you zoom your Sony 4K projector to fit the full width of your screen.
A "Full 4K" projector, which isn't common terminology and not something you're not likely to read about in the popular press or hear in a sales pitch, is a projector with an imaging chip or chips that provide a 3840 x 2160 pixel array. Every pixel in each 4K frame is flashed on the screen at the same instant in time, just as it is in a 4K flat screen set or the professional projectors in your local multiplex. But this can be pricey; Sony brought out a $5000 consumer model just this year, the VPL-VW285ES, but it's all up from there.
Not surprisingly, manufacturers have found clever and more economical ways of getting closer to Full 4K without actually going all the way. It all started several years ago when JVC introduced pixel shifting, or as they call it, e-shift. The projector accepts a 4K source with its approximately 8 million pixels, then processes them down to 4 million. It then separates these 4 million pixels into two sub-frames, each of them 1920 x 1080. It displays the first sub frame on its conventional 1920 x 1080 imaging chips, then shifts the image by less than a full pixel and displays the second, all in an instant. It may sound bizarre, but while it isn't Full 4K, the eye's persistence of vision, plus its limited detail perception at a normal viewing distance, allows it to work remarkably well. JVC was first out of the gate with this technique, but Epson is also now very much in the game (the diagram at the top of this blog is from Epson). Both companies use three imaging chips, one each for red, green, and blue, either LCD (all but one of Epson's models) or LCOS (Liquid Crystal on Silicon—though Epson's top consumer model uses a similar Liquid Crystal on Quartz). JVC does offer one Full 4K LCOS design, but its priced at a stratospheric $35,000.
Texas Instruments, the inventor of DLP technology wasn't about to sit on its hands with all of this going on. Just last year it came out with a new DLP imaging chip, the DLP66 (0.66 cm diagonal) offering a resolution of 2716 x 1528, or just over 4 million pixels. Using pixel shifting with this chip, it can put all of the 8+ million pixels in a 4K source onto the screen, displaced only in time, with no need to process the signal's original 8 million pixels down to 4 million as is the case in JVC's and Epson's solution. This year TI also launched another such solution using a DLP47 (0.47 cm diagonal), imaging chip. Using this chip's conventional 1920 x 1080, 2 million pixel resolution, it divides the 8 million pixels in each 4K frame into four 2 million pixel sub-frames, then shifts and flashes 4-times (rather than the 2-times in the DLP66). Again, all of the pixels in the 4K source are displayed, unlike the shifting used by JVC and Epson, but not at the same time as they would be in a Full 4K design like the Sony mentioned above. TI also argues for another advantage from their technique; unlike the LCD and LCOS projectors that must perfectly align the images produced by each of their three chips, a single-chip DLP solution can produce an inherently sharper picture.
One question remains, however. Can an image be called true 4K if the full complement of the 8 million pixels don't reach your eye at the same instant? No one has yet answered that, nor does there appear to be any movement toward doing so. The UHD Alliance, an industry group that has established certain (roughly enforced) standards for Ultra HD, appears primarily interested in the flat screen TV market, which means 99% of consumer 4K displays. It's unlikely the Alliance gave much thought to the solutions used by JVC and Epson, and none at all to TI's (which didn't exist outside of the lab when the Alliance first did its work).
The short answer, for now, is that the consumer must decide if this is an important concern in a purchase decision. I will say that in my experience with TI's DLP solution (I've only spent quality time with an Optoma using the DLP66 chip), they can be look exceptionally crisp without obvious artifacts (apart from the rainbows that can be an ever present distraction to those of us sensitive to them—not all viewers are) Comparably priced JVC and Epson pixel shifters, while less achingly sharp, don't appear to leave any important detail on the table while excelling in wider color and impressive contrast—the latter a notable weakness in the DLP's I've seen, though I certainly haven't seen them all.
But JVC and Epson, while not waving a red flag in front of potential buyers, at least make a point of their approach by using 4K e-shift and 4K Enhancement, respectively, in their promotional materials and specifications. I haven't noticed any similar hedging in the"4K" DLPs released so far, with those makers following TI's lead in calling their projectors true 4K. They do have a point; all of the pixels are indeed up there on the screen. But just not at the same time.