Pirates of the Caribbean: Dead Man's Chest—Buena Vista
Video: 4
Audio: 4
Extras: 5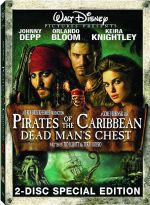 And so the pirate saga continues. Johnny Depp boards the Black Pearl once again in Dead Man's Chest, taking the ever-flamboyant Jack Sparrow on a soul-searching journey…literally. As the legendary Davy Jones resurfaces, it seems our favorite cap'n has a huge debt to pay. Jack may be good, but his pirating skills won't be enough unless he finds the fabled chest and barters its contents with the formidable Jones, brilliantly portrayed by Bill Nighy, who takes villainy far above sea level. Orlando Bloom also returns as the virtuous Will Turner, offsetting his pretty-boy charm by adding a bit more ruggedness to the character this time around.
If Depp's impeccable performance doesn't impress you, the 2.35:1 anamorphic transfer will. The image leaves little to the imagination, exhibiting lush color, opulent textures, and stunning detail. The Dolby Digital 5.1 soundtrack is equally notable, with excellent sound and fidelity. Hang on to your hats and glasses…oops, wrong ride. Nevertheless, the bass will shiver ye timbers.
Like many seafaring tales, it's never just a three-hour tour. This 2-Disc Special Edition boasts over five hours of special features, including "Bloopers of the Caribbean," "Captain Jack: From Head to Toe," and "Meet Davy Jones: Anatomy of a Legend." Featurettes like "Charting the Return—A Preproduction Diary" and "According to Plan—Journal of Filming the Movie" bring the audience closer to the moviemaking experience. After all, part of the thrill of watching a blockbuster like Pirates is discovering what goes into creating such a masterpiece. Many Disneyland fans are sure to enjoy "Dead Men Tell New Tales: Re-Imagineering the Attraction," which takes you through the revamping of the ride that inspired it all. The movie references that have been newly installed into the attraction are reason enough to make the trip to Anaheim, California.
Even before Shiloh, Suri, and the Spears boys, Hollywood had already set the birthing trend, conceiving blockbuster triplets, each one progressively louder and ready for sibling rivalry. This middle child of the Pirates trilogy does not disappoint, bringing nearly double the adventure and enough twists to surprise even the most seasoned of celluloid sailors. Dead Man's Chest is an excellent sequel, and it makes a nice segue for the final installment that you're sure to travel to the world's end to see. Avast, matey. This be one treasure you won't want to bury.
LATEST VIDEO