A New Use for Old Wires: Intellegg Moxivo Multiroom Music Kit

If you're one of the six in 10 Americans who have ditched land-line phone service to become a cell-phone-only household, Jeff Eggebraaten has a proposition for you: Use the phone lines running through your walls as a cheap and simple way to spread music around the house. The founder of Intellegg devised a set of cables that make it possible to shuttle music from a computer/laptop or iPod/MP3 player in one room to existing stereo systems or powered speakers in up to five other rooms at the same time. "It's like plugging an iPod into a stereo, but with Moxivo there's a phone line in between," Eggebraaten says.
The Moxivo kit (available on Amazon for $35 plus $5 shipping), includes six cables, each with a standard RJ-11 phone connector on one end and one of three common audio jacks on the other end. Two of the cables are terminated with a 3.5mm miniplug, two with a female 3.5mm miniplug adaptor, and two with a pair of RCA plugs.
These cables are all you need to create a multiroom music system: Connect the output of your audio source to a nearby phone jack with one of the cables and use the remaining cables to patch music to speaker systems situated near phone jacks throughout the house. (I said it was simple.) Each cable is 7 feet long, so as long as the system is reasonably close to the phone jack, you're good to go.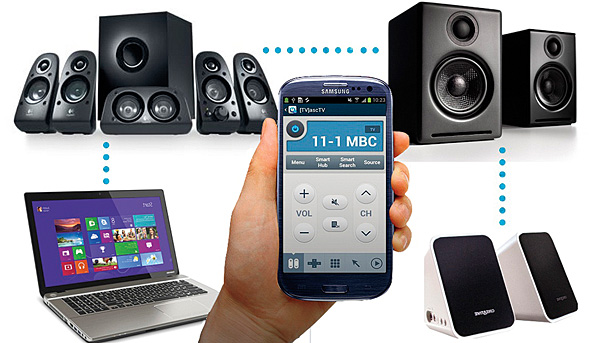 If you want the ability to select tunes or change Internet radio stations throughout the house, Intellegg recommends using a smartphone with a free app such as Retune (iTunes) or Remote (Spotify) to control music from a computer or laptop. For the system to operate at its best, you have to turn the volume of the audio source all the way up to "minimize the amount of amplification your receivers have to perform and prevent interference." In the event that the phone lines in your home have only two conductors instead of the usual four, you'll have to go mono.
It's worth reiterating that this system is for cord cutters and will not work if the lines are being used for phone, fax, or DSL Internet service. Eggebraaten says a cable for digital sources is in the works.