Infinity Cinema Now?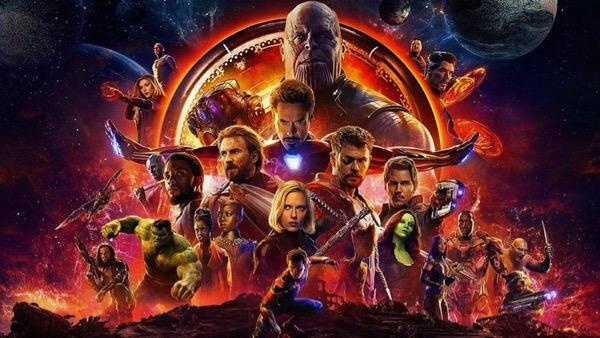 Ah, summer movies. The summer blockbuster tradition is relatively new, but summer moviegoing likely became a big thing when air conditioning was new and "Air Conditioning" on a theater marque guaranteed an audience.
But as I sat in a nearly empty local theater last week watching Avengers: Infinity War (it was a weekday afternoon and the movie had been out for 2 weeks), I wondered if the now ubiquitous Marvel Universe has painted itself into a corner. There are now too many characters to squeeze into a single film, even if some of the lesser lights were sidelined in this one (on holiday, perhaps—after all, only the future of the universe was at stake). So you have a gaggle of actors, each one of which is expecting significant screen time by getting his or her own little slice of the pie. That means a few meaty and/or witty lines for each of them and then off to the next battle. And if there's one thing this movie isn't lacking, it's a next battle. And the next. And the next.
Am I the only moviegoer whose favorite superhero movies are still Thor and Captain America: The First Avenger? It's no coincidence that these are both origin stories, and both were shot well before Marvel turned self-referential with a grandiose need to top itself with each new film. Both also had several strengths that Infinity War, not to mention the other overcrowded Avenger films, lack: breathing room, heart, a believably human scale (New York City is untouched in both of them!) and, most important of all, the possibility of the superhero not surviving. Thor also featured a near Shakespearean vibe courtesy of director Kenneth Branagh, as well as Patrick Doyle's music—easily the best orchestral score of any of the Marvel films (the pop-infused scores of the Guardians of the Galaxy movies are special in a different way).
I won't include any Infinity War spoilers here. But if you know going in that this movie is actually Part 1 of 2 (the second planned for next year), it lacks the emotional weight it might otherwise have. I knew about the impending sequel going in, since I saw it two weeks after it opened and sequelgate was common knowledge by then. Knowing that is roughly equivalent to hearing that The Sixth Sense has a major twist at the end before you see it. Armed with that small clue you're much more likely to figure out the ending midway through.
Despite all of this I did enjoy the movie, though it did run a little long at 2.5 hours. I'll likely buy the inevitable UHD Blu-ray to experience the movie in far better audio and video quality than my local theater offered. By the time I saw the film it had been pulled from the theater's IMAX screen (a marginal IMAX at best) and was playing in two of the standard auditoriums. The image quality was a wondrous combination of dim and soft, enhanced by desaturated colors. (I'm still wondering if there was an intended meaning behind substituting various shades of gray for the now hirsute Captain America's traditionally vivid red, white, and blue togs. He certainly didn't need the camouflage here.) The sound was more tolerable, though no better than in an average theater.
During a trip to Los Angeles back in March I did manage to see Black Panther in a Dolby Cinema theater. I have concerns about the basic premise of that film in which a small, self-contained society builds the most technical advanced civilization on the planet with only a single important resource, no significant contact or commerce with the outside world, and a monarchical government. Even by comic book standards it does stretch credibility a bit. And the final battle ran on far too long (do I sense a trend here?). But I did enjoy it, helped immensely by a presentation that beautifully rendered its eye-popping production values,. This wasn't my first experience with Dolby Cinema. But there are only 102 of them in the U.S. (and none within 150 miles of me). More are coming, but they'll never be widespread. All of them are in AMC multiplexes (Dolby and AMC apparently have an exclusive contract) but most AMC locations don't have one.
But make no mistake, Dolby Cinema is the current king of movie theater quality, not only for video but for audio as well. IMAX isn't close (apart from the rare exception like the TCL Chinese in Hollywood, with its 90-foot wide screen). If you have a Dolby Cinema within driving distance and have been there you know what I mean. If you do have one nearby and somehow have managed to put off seeing a film there, do so the first opportunity. You'll be back. And if you're vacationing anywhere near a Dolby Cinema this summer (California, Florida, and Texas account for 42 of those 102 installations) Google Dolby Cinema Theaters for a list and put a visit to it on your agenda.