Memoirs of a Geisha—Sony Pictures
Video: 3
Audio: 3
Extras: 3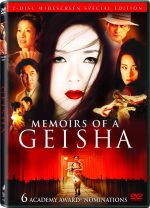 In a world where one is not allowed to desire anything, Chiyo has secretly wished for just one thing. Fueled by her dream of seeing her beloved chairman again, she is driven to become a geisha, and, in the process, becomes the most sought after one of her time. Memoirs of a Geisha features Ziyi Zhang in her first English-speaking role.
One could not ask for anything more in the visual representation (2.40:1 anamorphic). Geisha provides an insatiable Garden of Eden for the eyes, with exotic scenery and lush color. The picture quality is truly impeccable, with clear imagery that is free of noise. The Dolby Digital 5.1 mix is also remarkable, accompanied by an excellent soundtrack, composed by John Williams.
Special features include the featurettes "Sayuri's Other Journey: From the Novel to the Screen"; "The Road to Japan," in which the creators travel throughout Japan to experience the places described in the novel; "Geisha Bootcamp"; "Building the Hanamachi"; "The Look of a Geisha"; "The Music of Memoirs"; and "A Geisha's Dance," which follows the entire process that goes into staging a dance.
Several directors were considered to head up Memoirs, including Steven Spielberg, Brett Ratner, Kimberly Pierce, and Spike Jonze. The task was eventually given to Rob Marshall, who, in 2003, was an Oscar nominee for Best Director for Chicago. In March, 2006, Memoirs of a Geisha won the Academy Awards for Achievement in Art Direction, Achievement in Cinematography, and Achievement in Costume Design.
LATEST VIDEO