igloohome's Smart Keybox Provides Synchronized Security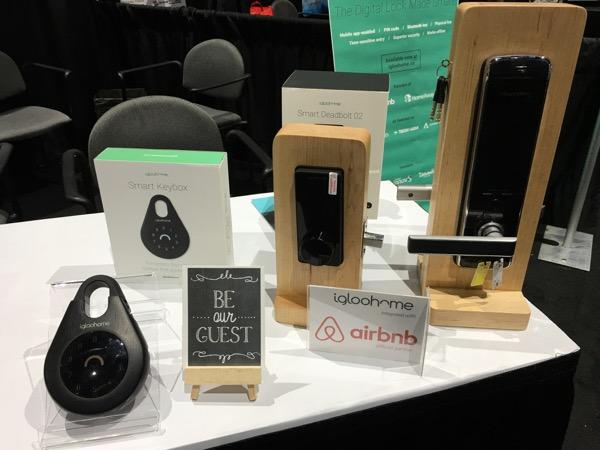 At CEDIA 2017, smart lock maker,
igloohome
, demonstrated the company's new "smart lockbox", an access-restriction device that's designed for short-term rental providers (such as
Airbnb
hosts), home owners, realtors, and others called the
Smart Keybox
. The Smart Keybox is a teardrop-shaped, electronic lockbox for storing physical keys (up to six), keycards (up to seven), or other small-but-important items, such as a SIM card. Property owners can generate secure, time-restricted six-digit PINS instantly and email or text them to guests (or maintenance staff) who can then enter the PIN on the Smart Keybox's touch keypad and retrieve the physical key(s) or keycard(s) stored within.
igloohome's smart locks, including the new Smart Keybox and Smart Lock Deadbolt 02, use cryptography and synchronization to secure the locks—without requiring the use of Wi-fi or Bluetooth. The PIN code can be programmed by the owner using the app to expire after a set duration (or never), giving the owner complete control over how long any particular guest will be allowed onto the property. Although the guest isn't required to have the igloohome app, having it loaded onto his or her smartphone does offer the ability to automatically open the lock via Bluetooth.
The fact that none of igloohome's smart locking devices require a Wi-Fi or Bluetooth connection is extremely unusual for products in this category. (A Bluetooth connection and a smart phone/tablet running the igloohome app are required to upload historical lock/unlock data.) The technology that allows the company's smart digital locks to function entirely offline is a type of synchronization similar to that which is used in online banking, which requires you to key in a one-time password that is generated from a security token.
According to igloohome, "Essentially, there is a 'formula' that has been programmed in both the igloohome smart digital lock and our app (likewise, in the bank system and security token), so that they can understand each other without being connected. Your PIN code holds the message—for eg. grant access to this guest for 2 days—that the app needs to pass to the lock."
The Smart Keybox and the Smart Lock Deadbolt 02 are available now for $169 and $249, respectively.