Aeon Flux: The Complete Animated Collection—Paramount
Video: 4
Audio: 5
Extras: 5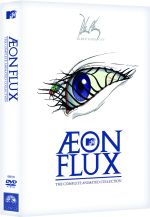 Before MTV got punk'd and The Real World was still slightly real, the proprietor of music television featured a late-night show so fluid in its experimentation that they called it Liquid Television. Geared toward insomniacs with an appetite for the avant-garde, LT featured several animated shorts, including Aeon Flux. Soon, it was turned into its own 30-minute weekly program. Aeon Flux is a sadistic, leather-clad secret agent who lives across the border from the enemy state, run by Trevor Goodchild, who is both Aeon's nemesis and her forbidden love. While the story does not necessarily echo Romeo and Juliet-type themes, this combination of opposites is intriguing in its paradoxical nature.
Fans of Chung's work have been awaiting this three-disc release with bated breath, myself included. The only setback is the video quality (standard 1:33.1), with the occasional appearance of artifacts and graininess. The Dolby Digital 5.1 is impeccable and does justice to the remarkable score composed by Drew Neumann. Aeon will work your surrounds as you watch her blow up buildings just to satisfy her pyromaniacal tendencies.
The special features are a joy to watch, as well. The Liquid Television shorts are in this section, as are other featurettes including "Investigation: The History of Aeon Flux" and "The Deviant Devices of Aeon Flux."
Rest assured, this is no ordinary cartoon. If Aeon considered herself to be the edge, Peter Chung certainly pushed the animation envelope right over her.
LATEST VIDEO