A Nightmare on Elm Street—New Line Cinema
Dream Street
Welcome to their
Nightmare
…again.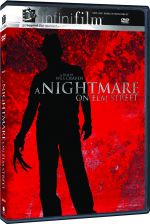 This new and greatly improved infinifilm edition of A Nightmare on Elm Street reminds me that New Line had other blockbuster franchises before the reign of hobbits and snaggletoothed British spies. Director Wes Craven's imaginative script struck a nerve with audiences who were growing tired of contemporary horror flicks. He introduced us to the iconic Freddy Krueger, a supernatural murderer relegated to attacking his young victims in their sleep, where no one can protect them from his knife-enhanced fingers. Elm Street also marked the big-screen debut of a baby-faced boy next door named Johnny Depp.
The movie is fairly low-tech, featuring a series of mostly mechanical effects, but New Line has remastered the 1.85:1 anamorphic video to a squeaky-clean look befitting Craven's idyllic, ironic vision of suburbia. The deeply saturated colors and fine textures are evident. The film appears much more recent than its 1984 copyright indicates, likely refreshed in anticipation of some future high-definition release. The audio, meanwhile, has been re-equalized specifically for home theaters and is available in both Dolby EX and DTS ES 6.1 remixes. The original mono tags along, as well. Barking dogs in the distance and other real-world details adorn the surround channels during waking hours, and all manner of environmental effects fill the soundfield when we're in the dream world. The gritty fantasy scenarios make this an ideal movie for bold surround usage, and this disc does not disappoint. The screech of Freddy's finger blades is painful, the pseudo-techno score pulses diligently, vocal echoes play cleverly, and even the less flashy scenes display a real sonic fullness.
The infinifilm features are at once sophisticated and user-friendly, with question-mark icons that explain everything, even what to look for when you use the included color bars. The All Access Pass takes you to a pair of group commentaries. One is archival, from the previous DVD release, and a new track reunites Craven with the usual suspects and some new voices. Watching in infinifilm mode enables seamless branching, with an annotated running time of each vignette, which include alternate takes, interviews, mini biographies, unused scenes, behind-the-scenes footage, and clips from the sequels. You sometimes get more than one choice at any given branching point. "Beyond the Movie" adds an optional trivia text track. Disc two carries a new 50-minute making-of, a 16-minute look at the science and significance of dreams, plus a 23-minute overview of the New Line horror legacy, which is a reassemblage of the infinifilm footage from disc one. Also here are the "Scary," "Happy," and "Freddy" variations on the ending, in addition to ROM content and online features for the computer, mostly PC-only.
The original Elm Street is still the best of the two-decade series, and this best-ever edition belongs in every library of genre films.
LATEST VIDEO