How Do You Want Your High-Res?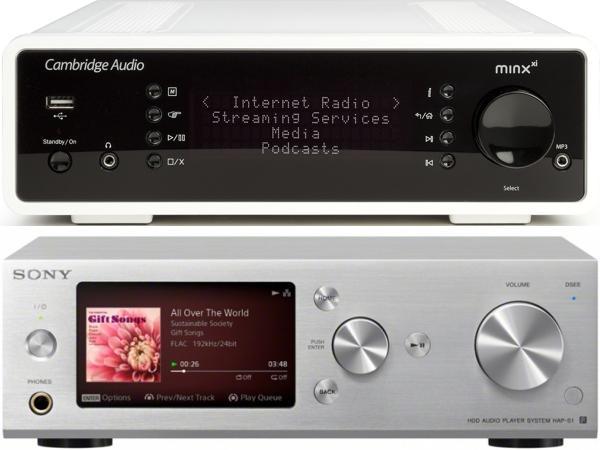 High-resolution audio (HRA) can enter your life in more than one way, as I discovered when reviewing two HRA products practically end to end. Both devices are DAC-amps that play HRA audio files. The main difference between them is that Cambridge Audio's Minx Xi streams music in real time from PCs and other devices, whereas Sony's HAP-S1 server-amp plays music from its own internal hard drive. The Cambridge is more of a network player, while the Sony is more of a music server (as I define these terms). These two products offer profoundly different ways of enjoying HRA.
They have several traits in common and sometimes the resemblance is eerie. They are virtually the same size, the Cambridge measuring 10.63 inches wide by 3.54 high by 11.22 deep, and the Sony 10.5 by 3.5 by 12. Both weigh just under 13 pounds. Both amps are rated at 40 watts per channel. Connectivity is similar, with Wi-Fi, ethernet, digital coaxial and analog inputs, and headphone outputs. Both support Internet radio. Neither requires driver installation. Neither streams Apple AirPlay. Their USB jacks don't accept direct connection of iOS devices or Macs or PCs. No Spotify.
However, there are significant differences. The Cambridge amp spec is into eight ohms, whereas the Sony is into four ohms. In effect this makes the Cambridge amp more powerful—and it sounds more powerful. Only the Cambridge has a subwoofer output, a significant advantage in a desktop system, where small speakers on the desk benefit from sub reinforcement beneath the desk. Only the Sony has a fixed analog line output, allowing it to connect to a more powerful main system. Only the Cambridge offers name-brand streaming services (Aupeo!, BBC iPlayer Radio, Live365, MP3tunes, Pandora, and Rhapsody). Only the Sony handles the bleeding-edge DSD file format (natch, a Sony invention). More surprisingly, only the Sony handles 24-bit PCM at a 192 kHz sampling rate—the Cambridge is limited to 96 kHz. When I played 24/192 files on the Cambridge, the front-panel display would label them accurately, but they'd play at only half speed! I'm told the designers had a choice in deploying their limited processing power: 192 kHz vs. gapless playback. Customer surveys pointed in the latter direction.
But the main distinctions are where the music is stored and how it is accessed. The Cambridge prefers to pull music out of an external device, whether it's a PC, a USB-connected drive, or a phone or tablet that talks to its plug-in Bluetooth module. It has no internal storage. But the Sony does have internal storage and prefers to do business that way almost exclusively. It will not stream music stored on a PC or drive in real time. It will only transfer the files to its internal drive and then play them. The only functional playback features the two systems have in common are Internet radio and whatever you connect to their analog or digital inputs.
What does this mean to you? Two entirely different user experiences. With the Sony, the first step is always to get music onto the server. The easy way is to use the HAP Music Transfer app for PC/Mac, which identifies all the music on your network-connected PC and copies it onto the HAP-S1's internal hard disk drive. However, if you'd rather pick individual folders and tracks, that's easy enough. Your computer will recognize the Sony as a network-connected drive and you can drag files from one to the other.
External disk drives get different treatments. The Cambridge streams music from any USB-connected drive. Given that my entire music library is stored on two identical external hard drives—with only a subset actually stored on my main multimedia PC—I found it expedient to simply connect one of them to the Minx and start playing music. In contrast, the only way to get the Sony on speaking terms with an external drive is to let it format the drive, effectively wiping any music previously stored on the drive. Sony actually did this to improve the user experience. Once the internal and external hard disks are joined at the hip, they function as a single unit, making it easy to find music by artist, album, track, etc., as opposed to tediously drilling through folders and sub-folders and sub-sub-folders and—well, you get the idea.
Ergonomics are another critical part of the user experience. How easy and pleasurable is the product to use? Both have impressive cosmetics and build quality. However, Sony's user interface has the advantage. Its gorgeous color front-panel display, with jacket art and elegant graphics, makes accessing music not a grim chore but a constant pleasure. It is also speedy: spin the dial and it scrolls fast. I played music on it day and night, long after my formal demo time was over. I just couldn't keep my hands off the thing. Cambridge's display, on the other hand, is basic alphanumeric gruel, and scrolling through long track lists with the jog dial can take seemingly forever. But the sound kept me coming back. More on that in a moment.
What evens out the ergonomic playing field are the phone and tablet apps (for both Android and iOS). Even here, Sony has an advantage, with more attractive graphics. I especially like the Full Browser mode, which presents genres, artists, albums, and tracks in four easy-to-swipe vertical columns. But though the Cambridge app isn't as pretty, in some ways it is more functional. It lets you adjust system settings; the Sony app does not. And Cambridge's remote control is far more functional than Sony's. It does everything you can accomplish on the front panel and scrolls considerably faster. Sony's barebones remote has only a few buttons for track navigation, volume, mute, and power. It seems like an afterthought.
There's one question left on your mind. How did they sound? Advantage: Cambridge. The Minx Xi had an alluring full-bodied brilliance that made everything, including all but the lowest-bitrate MP3s, sound somewhere between good and great. Sony's lightweight and lower-scaled presentation came in a distant second, with a far less beefy bottom end. With no subwoofer, how could it be otherwise?
Despite their flaws, both of these products were so good that I relinquished them with some reluctance. Should I buy this?, I thought to myself, as I packed up the Cambridge. Should I buy this?, I thought to myself, as I packed up the Sony. Actually, what I'd like to buy is a product that combines Cambridge's amp and playback flexibility with Sony's showmanship and built-in hard drive. I haven't found it yet. But give me time.
Audio Editor Mark Fleischmann is the author of the annually updated book Practical Home Theater: A Guide to Video and Audio Systems.
LATEST VIDEO