How to Create an Amazon Prime Music Library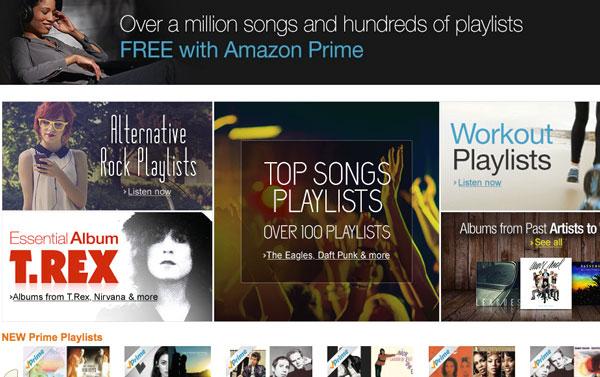 Amazon has added yet another benefit to their list of goodies available with an Amazon Prime membership. Amazon Prime Music joins Amazon Prime Instant Video, two-day free shipping, and the Kindle book lending library as an additional advantage of the $99 yearly Prime membership fee. Prime Music makes a limited number of songs (okay, a million songs) available to be added to your Amazon Music library. It was announced today that the list is growing with the addition of hundreds of thousands more songs. While Spotify or Google Play Music offer many more songs, they charge $8 or $10 (respectively) per month. Everyone with an Amazon Prime membership automatically has Amazon Music without any additional monthly or per song charge. The only investment you'll have is time spent choosing music to add to your online library.
The Amazon Music library has combined and replaced the previous Amazon MP3 Store and Amazon Cloud Player. Amazon Prime Music can be accessed under your account drop-down menu where you will also find "your Video Library." Music can be played in your web browser or via an Amazon Music app that accesses your cloud library, Amazon Prime and its music store, and the music library on your computer.
For mobile devices, the Amazon Cloud Player app has become the Amazon Music app and is available for iOS, Android, Kindle Fire, Fire Phone, PC, Mac, and on the Amazon website. On Fire TV the Music app still only plays music you've previously purchased or uploaded to the Amazon Cloud. Amazon Prime Music should be added by the end of the year. Still, Fire TV supports Miracast, which makes it possible to mirror a Kindle Fire or other Android mobile device to it. The Kindle Fire app also includes the sing-along Xray feature, which displays song lyrics on your TV screen.
Prime Music works much like Prime Instant Video. Some music is offered for sale, other music is available for free. I've been building my library and found that there was little consistency in the Prime offering. An album may be offered for sale but still have several songs that can be added to your Amazon Music library for free. The same song may be offered as Prime music on one album (e.g., a "greatest hits" album), but not on the album on which it was originally released (or vice versa). If you are looking for a specific song for free, it's best to search for the song; the results will indicate if it is available for free on a specific album.
A Prime album is marked with the Prime logo and can be added in its entirety to the music library. However, if even one song isn't Prime, songs must be added individually. This is a bit confusing because an album might show a price instead of the Prime indication, but may have some Prime songs. This happened with the James Taylor album Sweet Baby James. The album indicated that it cost $9.49. When I clicked on the album, all songs were available in Prime except "Oh Susannah." Instead of adding the whole album I had to separately click on each song, to add "Steamroller," "Country Road," and the other tracks.
As with all Amazon products, there is a "Customers Who Bought This Also Bought" list that includes recommendations for similar kinds of music. This makes it easy to click on the Prime albums. Soon, my library was filling up with music I like.
Another way to find music is by perusing the Playlists. A playlist can be added in its entirety or you can pick individual songs you like and create your own custom playlists. Rather than applying algorithms to create radio stations, Amazon has employed people to curate playlists for a variety of tastes, moods, and genres. There are nostalgic playlists like "50 Great 70's R&B Songs," "80s One Hit Wonders," or a "90s Pop Workout." Other playlists feature one artist—"Dave Matthews Band's Top Songs," or "George Winston's Top Songs." Playlists have been created for different listening situations from "Singing in the Shower" to "Breezy Summer Classics" or "Coffee Shop Jazz." You can also search for playlists by categories that include: happy & upbeat; relaxed & laid back; work, study, reading; energetic & fast tempo; and hard & heavy.
While there is wide range of musical selections, music on the Universal label is not available and certainly you won't see the Beatles streaming for free. To add favorite music you already own, you can upload the songs from your computer to your Amazon Music library using the Amazon Music Importer app. Amazon allows uploading of up to 250 songs for free or up to 250,000 songs for an annual $25 fee (much like iTunes Match). The Amazon Importer actually works like iTunes match. It finds your music in the Amazon digital music store, and adds the song to your Amazon Music library. If there is no match, it uploads the music files from your computer. According to The Verge website, Amazon's VP of digital music said that songs and albums will not lose their Prime status in the same way that Prime movies disappear.
Audio purists may be unhappy to hear that Amazon Music's high quality setting tops out at 256kbps. Spotify and Apple's stream at up to 320kbps. Music in your Amazon Music library, including Prime Music, can be downloaded to devices or computers for listening when not connected to the Internet. The smartphone/tablet app automatically adds the device's music library to the Amazon music app so the songs can be included in downloaded playlists.
Amazon does not have a "radio" feature like Google Play Music, Spotify, or Pandora where you can create a queue by choosing an artist or song and playlists can't be shared like Spotify. Still, there is no additional charge for creating a large music library filled with your favorite songs and album. As a Amazon Prime member, you get access to a big library of songs, and you don't have to do anything more than pick the songs and Playlists you want.