Home Theater Made Easy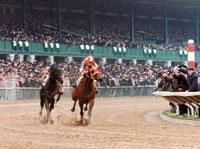 Picking the right home theater system can be a lot like picking the right horse at the track - especially if you're looking for a complete system in a single package. Manufacturers are flooding the market today with low-end home-theater-in-a-box (HTiB) systems that cheap out on the thrills and chills. But we separated three thoroughbreds from the field, each of which offers a special twist on the HTiB formula of a DVD player, an A/V receiver, and a 5.1-channel suite of speakers. Panasonic's SC-HT1000 ($1,000) includes a DVD recorder, Pioneer's HTD-630DV ($800) cuts the cord with a wireless surround speaker, and Denon's D-M71DVSXP ($999) eliminates the surround speakers altogether with Dolby's new Virtual Speaker processing.
The well-produced Seabiscuit DVD provided plenty of challenges for these systems, from ripping fast motion to thundering sound effects.
To test the mettle of these systems, I placed my bets on
Seabiscuit
, a superbly shot, fast-paced horse-racing movie. The DVD's Dolby Digital 5.1 soundtrack includes plenty of thundering hooves, some clever sound effects, and ample dialogue - plus all sorts of snorts and whinnies.
PDF: Key Features
LATEST VIDEO
WHERE TECHNOLOGY BECOMES ENTERTAINMENT