Hitachi P50T501 50-inch Plasma HDTV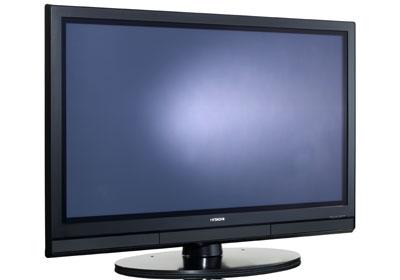 According to the Chinese calendar, 2007 is the Year of the Pig. But it's also looking to be the year of the 1080p plasma TV, what with new 50-inch models arriving from Samsung, Panasonic, and Pioneer. Another plasma maker, Hitachi, has taken a slightly different approach for its newest 50-incher. While the others' models have a screen resolution of 1,920 x 1,080 pixels (and a price tag to match), the Hitachi P50T501 50-inch plasma HDTV maxes out at 1,280 x 1,080 pixels. That puts it somewhere between a 1080p and a 720p display in the HDTV universe, with the main benefit being a complete set of 1,080 lines to display 1080i HDTV programs with full vertical resolution. And though the P50T501 doesn't have the detail-rendering capability of true 1080p sets, its affordable $2,400 street price helps to make up the difference.
With a rounded black frame and slim, bottom-mounted speakers, the P50T501 has a look that's at once eye-catching and understated. A flip-up panel located beneath the screen at the TV's center hides a set of control buttons, along with a nicely decked-out A/V convenience input. In addition to standard composite-video and stereo audio jacks, you get both an HDMI connection for a high-def camcorder and an SD card slot for viewing digital photos. The included black stand appears fairly sturdy, but the TV tended to wobble a bit on it. On the plus side, you can swivel the stand around 45° in either direction.
The Hitachi has a fair share of other inputs on its back panel, including two HDMI and two component-video inputs. About the only thing that's missing is a dedicated RGB computer jack. The TV's remote lacks backlighting, but its layout is clean, with important controls such as Volume, Channel, and Menu getting a silver-toned coating to set them off. To switch sources on the Hitachi, you hit the Inputs button and scroll through an onscreen list. And the Aspect button toggles through the set's display modes, which include various options to stretch and zoom in on standard 4:3 and 16:9 HDTV programs. A mode called 16:9 Standard 2 displays HD pictures with 0% overscan, without cropping the image.