Hitachi 42HDT52 42-inch Plasma HDTV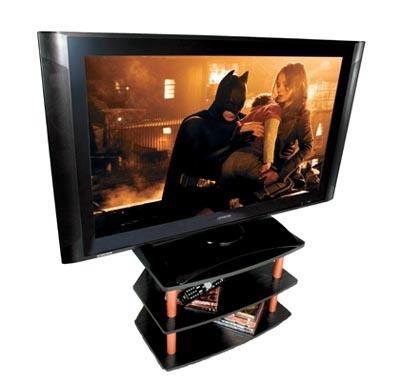 What We Think
Its blacks could be blacker, but this beautiful plasma still delivers the high-def goods.
With the possible exception of the iPod Nano and the Motorola Razr V3 cellphone, there's no piece of electronics more stylish than a plasma TV. Even the cheapest examples of the breed exude a sexiness that escapes bulky projection TVs and small LCD panels, while many high-end models are downright gorgeous. I'm still convinced that, despite all the talk about picture quality and space-savings, the main draw of a big-screen plasma is the image it presents while turned off.
I'm no fashion plate, and I own neither an iPod nor a Razr, but even I can tell that Hitachi's 42HDT52 makes most plasmas look like Sarah, Plain and Tall. It's entirely black, but unlike many all-black televisions, it looks classy rather than generic. A single pane of glass extends beyond the edge of the picture straight out to the narrow black speakers on either side and to thin strips of burnished black metal along the top and bottom. The speakers curve back to give the panel a friendlier, rounded-off look. And the subtly rounded glossy black stand, which matches the panel perfectly, also offers a remarkable feature: a motorized swivel that let me turn the TV up to 30° in either direction using buttons on the remote control. Very cool.
I really liked Hitachi's remote. The oversized, glossy black clicker is fully illuminated and has just the right number of buttons. In another notable feature, a pair of scroll wheels take the place of keys for volume control and channel selection. I quickly got used to swinging the volume down low during commercials and zooming through channels with off-air and cable sources.
Hitachi's thoughtful design extends to the menu system as well. Moving between items and making selections was completely intuitive, and the picture controls slid obediently to the bottom of the screen instead of obscuring the image. Despite its many features and options, I found the TV extremely easy to set up and use.
SETUP When it came time to connect my gear I discovered plenty of available inputs, including a pair of HDMI ports and two IEEE 1394 with DTVLink ports for digital video sources. The side of the plasma also includes a USB port - I plugged in a standard thumb drive containing digital photos and was able to view them. My only real complaint is the lack of a computer input.
The Hitachi includes both an off-air digital tuner and a CableCARD slot to receive digital TV and HDTV from antenna and cable sources. If you choose to ditch your cable box and go CableCARD, the free TV Guide On Screen program grid (now widely used by TV makers) helps make up for the loss of your cable provider's guide.
When it came time to adjust the image quality I really appreciated Hitachi's Day and Night modes. Each is fully adjustable and fully independent for each input, which allowed me to customize brightness, contrast, color, etc. for two different lighting situations with each source I had connected. You'll also find four color-temperature presets, one more than normal; the fourth is optimized for black-and-white material.
LATEST VIDEO