Hisense Thinks It's Better To Be Bigger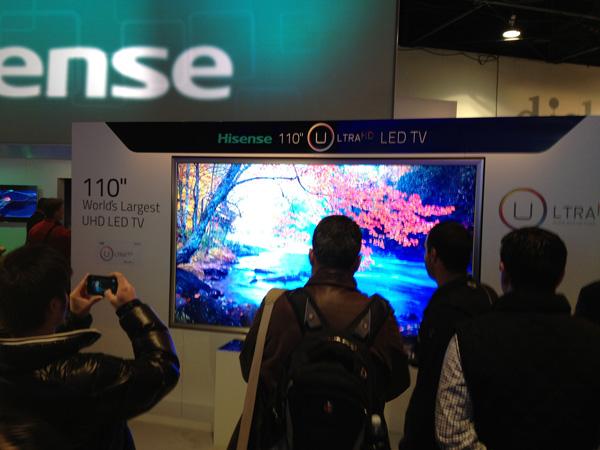 In what can only be described as the single most tedious press conference in the history of CES (just beating out the i'm Watch press conference that, interestingly enough, also took place this year), 40-year-old Chinese company (and self-proclaimed "world's fifth-largest TV manufacturer), Hisense, announced plans to grow from a regionally known to a globally dominant CE manufacturer making everything from TVs to smartphones to smart-home appliances.
Despite the lackluster presentation, Hisense had some exciting things to announce, including two models (84- and 110 inches) in the company's flagship XT900 series of 2160p Ultra HD U-LED flat-panel Smart TVs (with Google TV). Also unveiled was the XT880 series of 4K Ultra High Definition 3D and Wi-Fi-enabled Smart TVs in 50-, 58-, and 65-inch screen sizes. As with the XT900 TVs, the XT880-series sets incorporate a detachable USB-camera mounted on the top bezel of the TV while the TV's remote control features a built-in microphone. Hisense also presented a concept prototype of the GF60XT980 glasses-free 3D TV that uses a facial tracking system that "discretely tweaks each sweet spot to give viewers the best experience possible." No pricing, expected availability, or distribution details were announced.
WHERE TECHNOLOGY BECOMES ENTERTAINMENT