High-def TiVo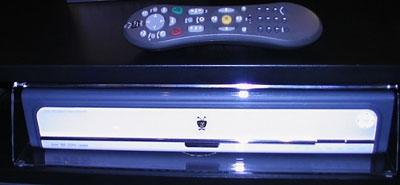 Considering that TiVo first announced its HDTV plans two years ago and now offers a high-def version of its hard-disk recorder (HDR) exclusively for DirecTV satellite subscribers, devotees of TiVo who subscribe to cable TV have been increasingly turning to high-def cable boxes with HDRs. Their interactive program guides might not be as user-friendly as TiVo's, but at least they let you store high-def programs to watch at your convenience. The good news is that a high-def TiVo is coming. The bad news is that it's still at least a year away. Mockup of a future TiVo hard-disk recorder capable of saving HDTV programs received through a CableCARD.
Spinning the situation as positively as possible, TiVo's chairman/CEO Mike Ramsay announced at CES a seven-point plan, code-named Tahiti, that promises some cool TiVo upgrades. (One of them, in fact - TiVoToGo - was announced at last year's show and is only now finally beginning to be downloaded to subscribers.) Point 3 is most pertinent to viewers who simply want to TiVo HDTV: it calls for a TiVo recorder to incorporate a slot for a CableCARD, which decodes a digital cable feed, including premium channels you've subscribed to, without an outboard box.
According to a sign above a mock-up at the press conference (see photo), the box would include dual tuners - so you can record two programs simultaneously - and would be able to record over-the-air digital TV broadcasts as well as HDTV and other digital programs from cable. Ramsay couldn't provide specifications or pricing, but he said that a high-def digital cable-ready TiVo would be available early next year.
Other promises in the Tahiti plan include the ability to record video delivered by a broadband network or Internet connection as well as WishList and Season Pass features extended to Webcasts. Ramsay credited several partners in implementing the TiVoToGo part of the plan: Microsoft developed software enabling TiVo-recorded TV shows to be transferred into Portable Media Centers , Pocket PCs, and Smartphones via a Windows XP-based PC. Sonic Solutions provided software to burn a TiVoToGo program on a PC-based DVD recorder. And AMD, a semiconductor maker, provided a reference design for companies to manufacture portable media devices that can play TiVoToGo programs. < < Back to the International CES 2005 index
LATEST VIDEO