Hidden Treasures: Anonymous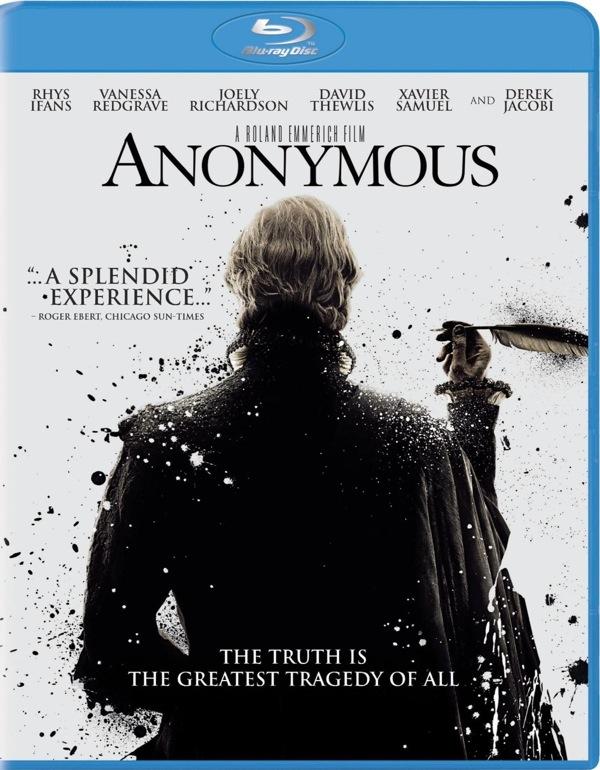 Yes, I do have an odd taste in movies. But there must be others who can equally enjoy science fiction and action films, animated features, and well-done historical dramas. Only recently I revisited the DVDs of
Zulu
(the 1964 film with a very young Michael Caine in his first major role), and the first episodes of
Shaka Zulu
(a late '80s mini-series with a riveting performance by Henry Cele as Shaka). The technical quality on
Zulu
was very good for a DVD (there is a Blu-ray release that has received mixed reports, but I haven't seen it). The picture quality on
Shaka Zulu
(1.33:1) is poor, but watchable. Both have mediocre audio at best, but despite their technical limitations are superb.
Anonymous is a much more recent effort (2011). Yes, it's astonishing in its realistic recreation of Elizabethan England of the late 1500s (at least as accurately as we can know). But it's based on a long-running controversy: Who actually wrote the plays and other works of William Shakespeare? Was it Shakespeare himself, who grew up in a poorly educated and illiterate family, or perhaps someone noble-born, who couldn't write and present plays in his own name given the social strictures of the time? The film takes the latter position—that the actual author was one Edward DeVere, the Earl of Oxford.
Even more surprising than the premise of the film is its director: Rowland Emmerich. Yes, the Rowland Emmerich who helmed a string of ambitious and often (unintentionally) hilarious sci-fi and disaster epics including Independence Day, The Day After Tomorrow, 2012, and Godzilla (1998). How could such a director dare tackle a serious drama?
He does, and brilliantly—without a single alien ship or giant lizard in sight. If there's ever such a thing as a Rowland Emmerich masterpiece, this could be it.
The movie begins like a stage presentation, with the narrator (Derek Jacobi) arriving breathlessly at a New York theater and immediately stepping on stage to introduce the audience to the controversy about to be played-out. In a flash we then transition into a more realistic film mode, transported to the heart of the Shakespearian age. But far from the bright colors we saw in Shakespeare in Love, the look Emmerich has chosen here is dark and moody— a sepia-toned London that's likely a more accurate representation of the time. The photography is excellent, and while the Sony Blu-ray transfer here is also very good, the film's many dark scenes will challenge your video display. There's nothing dramatic about the DTS-HD Master Audio soundtrack (you can give your subwoofer a well-deserved day off), but the dialogue is clear and the score effective.
The plot is complex, jumping back and forth between the early and late years of Elizabeth's reign, though most of the story takes place in her twilight years when "Shakespeare" was rapidly becoming the toast of High Street. DeVere's chosen vehicle to present his plays is a struggling young playwright, Ben Johnson (yes, most of the characters here are based on real historical figures, and any resemblance to persons living or dead is purely intentional). And the recreation of the plays, shown in all-too-brief snippets, is a treat.
Initially Johnson is told to produce the plays under his own name, but on the first performance a drunk, illiterate actor, one William Shakespeare, steps in and claims both the credit and the applause. Things spin in and out of control after that, intertwined with the court politics and sexual intrigue or the era (the 130 minute, 2.35:1 film is PG-13, though some might rate it a soft R).
The acting is brilliant throughout, loaded with top-shelf British actors, many of them (apart from Vanessa Redgrave as the older Elizabeth I) little known here. Particularly notable among the less familiar faces are Rhys Ifans as DeVere and Sebastian Armesto as his ghost-producer and (at first) ghost-writer, Johnson. Ifans may be best remembered to American audiences as an on-again, off-again lizard in The Amazing Spider-Man. And as an actor, Ifans is definitely a…um… chameleon. Anyone who remembers him as Hugh Grant's sloppy roommate in Notting Hill will be floored seeing him here as a posh, impeccably mannered aristocrat. The characters couldn't be more different. It would be fun, in fact, to play these two films as a double feature in your home theater—a quirky, Rhys Ifans festival!
Emmerich proved with this film that he can direct something other than schlocky (though highly lucrative) epics. In fact, this film might well have been a candidate for Best Picture in 2011 (And Ifans for Best Actor!) . But two factors were against it. First, Emmerich didn't have the "correct," serious resume. Second, the Shakespeare vs. DeVere authorship controversy. Some VIPs in the drama business take the implication that Shakespeare wasn't the author of the works that carry his name very seriously, and the "Stratfordian vs. Oxfordian" flap can get feisty. Nevertheless, this is a first rate production in every respect.
Unfortunately, it wasn't a box office success, and Emmerich clearly learned which side of his bread gets buttered. This summer there's a sequel to Independence Day to savor or endure (take your pick). And there's even a remake of Stargate (another Emmerich film) said to be in the works—as a planned trilogy! Who knows, the latter might work. After all, the original Stargate spawned a television franchise second in longevity only to the Star Trek reboots.