HDTV on the Cheap Page 2
Toshiba 32HF73 This Toshiba set looks much like any other flat-tube TV. Silver plastic surrounds the 32-inch (diagonal) screen, perforated by speaker holes to the left and right. Flipping open a hatch behind the TheaterView HD logo reveals an A/V input with S-video, and closing it again restores the TV's clean look. The six buttons on the front are useful - except Demo, which causes the set to dance through its menus.
The remote control has a nice size, backlit buttons, the ability to control three other pieces of A/V gear, and a relatively logical layout. But to switch inputs you have to hit the TV/Video button, awkwardly placed at the top.
There's an aspect-ratio (display mode) control - something many 4:3 TVs lack. Normal mode fills the screen with 4:3 programs, Compression places black bars above and below widescreen DVD or HDTV pictures, and Zoom expands the letterboxed movies shown on standard cable channels like AMC or TCM. The first two choices also work with high-def sources.
The Toshiba's back panel has a DVI (Digital Visual Interface) input and two component-video inputs so you can connect up to three HDTV or progressive-scan sources. Being able to save separate picture settings for each video input is a nice touch, as is the split-screen feature, which works with all inputs and sources except DVI and allowed me to resize a pair of images in up to nine ways.
Toshiba 32HF73
DIMENSIONS (WxHxD) 34 1/2 x 26 1/2 x 22 5/8 inches WEIGHT 151 pounds PRICE $1,099 MANUFACTURER Toshiba America , www.toshiba.com/tacp, 800-631-3811
PLUS• Display mode (aspect ratio) control • Split-screen mode works with HDTV sources
MINUS • Slightly soft DVD and HDTV picture • Accentuates red somewhat
One thing the Toshiba lacks is a digital tuner. You'll need to buy an external one if you want to pick up HDTV signals from over-the-air broadcasts using an antenna.
PICTURE QUALITY After tweaking the picture, I slipped Kill Bill, Vol. 1 into the DVD player. Chapter 3 begins with a terrific fight between The Bride (Uma Thurman) and Copperhead (Vivica A. Fox). As the women punched, wrestled, and threw one another around, I quickly realized that the detail I was used to seeing on DVD wasn't quite there. Thurman's face and leather jacket looked a little soft in all but the closeups. And as she held Copperhead off with a knife, wisps of hair in her ponytail, which should have been crisply defined, blended into a blonde mist. I also had to reduce the color control to compensate for the way the TV accentuated reds, which caused the vibrant décor of Copperhead's house to lose some of its luster.
Like other CRT-based TVs I've seen, including the others here, the Toshiba did a better job with dark scenes than most DLP, LCD, and plasma TVs. During the huge fight scene toward the end of the movie, The Bride enters a room filled with sword-wielding yakuzas and someone kills the lights. In the dim blue glow I could see facial expressions, different parts of the yakuzas' black suits, and the cross-hatch pattern on a katana's hilt - all while the letterbox bars and most other parts of the widescreen image remained an inky black.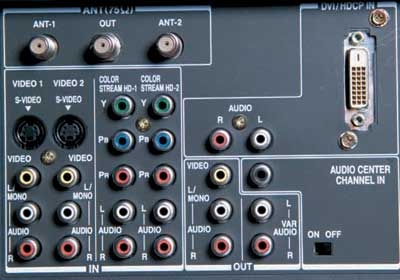 To test the set's high-def performance, I checked out a T-Wolves/Lakers game on TNT's HDTV channel. Compared with the other sets here, the Toshiba's rendition was a bit soft. Don't get me wrong: HDTV still looked much better than standard television, and I could see plenty of extra detail, from the grain in the wood floor to the names on the jerseys. But HDTV should also look better than DVD, and on the Toshiba it looked the same. In the shuttle launches from both the high-def 1080i D-VHS tape and DVD versions of Digital Video Essentials , details looked identical.
---
Given its standard 4:3 screen, playing widescreen material like DVDs and HDTV programs isn't the 32HF73's strong suit. But standard TV fills its screen well, so it's a natural choice for people who want to watch HDTV, but currently watch mostly news shows and other nonwidescreen programs.
LATEST VIDEO