HDBaseT: The Best New Technology You Won't Use (For a While, Anyway)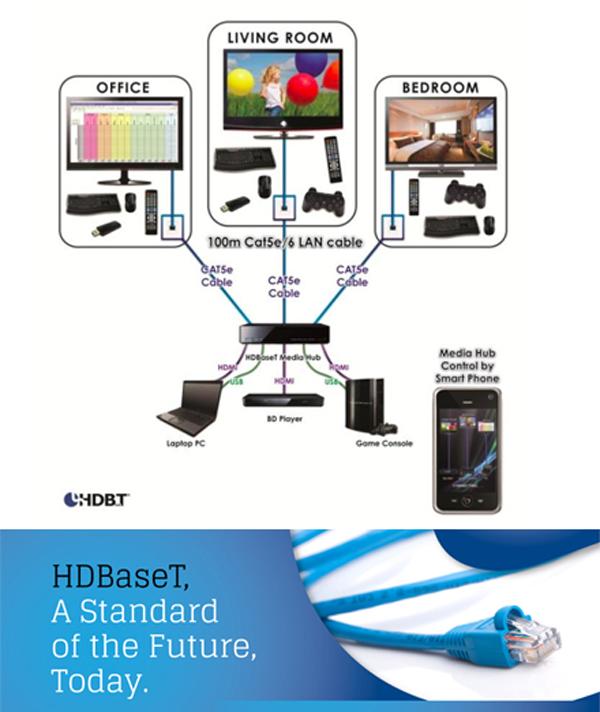 The promise of
HDBaseT
is clear and compelling. With one, standard, off-the-shelf – relatively inexpensive – Cat5e/6 LAN cable, you can send full HD (3D and 2K or 4K) uncompressed video and audio (up to 10.2 Gbps), 100 Mbps Ethernet communication, various protocol control signals (RS232, for example), and
up to 100W of power
from one AV device to another up to 100 m (328 ft) away. (The HDBaseT Alliance refers to this set of features as "5Play".) That means if you're hooking up an HDBaseT-enabled flat-panel TV mounted on the wall to an HDBaseT-enabled AVR in a cabinet located in the back of the room, there's no long, bulky HDMI cable (or HDMI extender baluns) to deal with (or spend the money on). No need for a repeater cable or wireless device to pass IR or RS232 control commands. And no separate Cat5e/6 cable to connect your TV or BD player to the internet via your home LAN. In my opinion, though, the most exciting part is that many components with integrated HDBaseT technology, including most TVs, won't need an AC cord to plug into an outlet in the wall. It'll get all the power it needs over that one, humble Cat5e or Cat 6 cable thanks to the magic of HDBaseT's "5Play" technology.
Awesome, right? Absolutely…just not yet.
That's not to say there's anything currently wrong with HDBaseT. In fact, a lot of custom installers like to use HDBaseT, especially for remotely located TVs and devices in whole-house entertainment systems. But the idyllic one-cable-for-all days aren't here yet. That's because, at the moment, there are a scant number of display and source components with integrated HDBaseT technology; and the bulk of those that do incorporate it - from companies such as Panasonic (the company tacks on a few more proprietary features and calls it DIGITAL LINK technology), Epson, and projectiondesign, to name a few - are designed primarily for the pro AV and digital signage markets.
Thankfully, there are some custom-install-oriented HDBaseT products starting to become available that take advantage of the technology's wire-minimizing feature. Wyrestorm's unique AMP-001-010 is an HDBaseT two-channel digital amplifier with sub pre-out that's gets its power via the Cat5e/6 cable and includes an HDMI output along with audio-source switching. It can also function as an HDBaseT repeater cascaded in line with up to seven other amps using a single Cat5e/6 cable. But Wyrestorm's amp is only one piece of a very large connectivity puzzle, and for the (above) average homeowner with an elaborate home theater and/or whole-home AV and automation system, the usual HDBaseT deployment will consist of HDBaseT matrix switchers, HDBaseT senders and receivers, and HDBaseT wall plates that convert the HDBaseT signal back into HDMI, IR, and etc.
When you start talking about switchers, senders, receivers, and wall-plate adapters, though, you can bet the costs (and the number of cables) are going to start adding up. What happened to the idea of just one cable connecting the AVR to the TV?
It's coming, surely – but it's going to be excruciatingly slow. Over the last few months, several companies have decided to dip their toes in the HDBaseT waters. Most recently, Integra debuted an AV pre/pro (DHC-60.5) and an AVR (DTR-60.5) with built-in HDBaseT ports that can be used for connections in either the main or the second zone. Both components, priced at $2,000 and $2,300 respectively, also include 9-in/1-out HDMI ports. Shortly before that, Pioneer Elite unveiled the company's new $3,000 SC-79 9.2-channel AVR that includes the capability of distributing HD video/audio to a fourth zone via HDBaseT. It's only three home theater components; and, with a $2,000 price tag on the least expensive of the trio, it's certainly not mass-market stuff – but it's a start. Hopefully, other audio companies will make HDBaseT-related announcements at CEDIA 2013 or CES 2014 in January.
While it's not mass-market either, Aquavision, a European manufacturer of waterproof and in-wall TVs, is claiming bragging rights to the first HDBaseT-integrated TVs. The company recently announced a ConnecTV range of 19-inch, 22-inch, and 26-inch models that will utilize the full range of HDBaseT features, especially the elimination of an AC power cord by using Power over HDBaseT (PoH) instead. (No pricing was announced.)
For the geeky, DIY crowd (of which I consider myself a proud member), a few of the more consumer-oriented companies are getting into the HDBaseT parts and pieces business, including Belkin, and Monoprice. Of course, these black box devices don't totally eliminate HDMI cables, power cords, and the like; but they do make AV distribution and long HDMI runs a little easier.
In the meantime, let's just hope that more mainstream component manufacturers will begin incorporating HDBaseT into their product designs. Wire and cable makers won't be too happy to see that happen (except the ones that sell Cat5e and Cat6 cables). The rest of us, on the other hand, will start thinking Cat6 is the best four-letter word we know.
LATEST VIDEO