Harman Kardon AVR 7300 Digital Surround Receiver Page 3
The AVR 7300 met all challenges of HBO's technically superb DVD set of the WWII series Band of Brothers.
MOVIE PERFORMANCE The AVR 7300 displayed really impressive power and dynamics in all playback modes. It met all the challenges of HBO's technically superb DVD set of the WWII series Band of Brothers. For example, the extended firefight that fills much of Part 5 (Crossroads) includes just about every possible surround effect relating to gunfire, explosives, rumbling machinery, distant, echoing detonations, and running, shouting men - all of them meticulously produced for realism and impact. Surely the Harman Kardon can take some credit for my finding this sequence as harrowing the tenth time through as the first.
Through all six episodes of the series, the AVR 7300 gave no hint of dynamic sacrifice regardless of volume setting. In fact, it had enough power to ace all of my movie-soundtrack torture tests, including explosions, crashes, and musical scores played as loud as in a movie theater. In every case, the sound was clean, dynamic, and elegantly defined.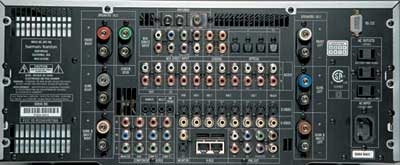 MUSIC PERFORMANCE Music playback through the HK receiver met the same high standard, with power to spare for even the most demanding multichannel Super Audio CD or DVD-Audio disc. The AVR 7300 delivers fully flexible bass management for its multichannel analog input. It can also superimpose DPL IIx processing on signals received through this input, creating a back surround channel from the discrete left and right surround channels in your SACD and DVD-A recordings.
The effect on pristine recordings, like the SACD of Norah Jones's Come Away with Me, was to make the ambience more seamless and enveloping. On others, the added back surround channel emphasized any centered soloist, pulling him or her slightly toward the listener. Being able to fine-tune bass management for SACDs and DVD-As, and to apply DPL IIx processing to them, are real luxuries, and we've rarely seen them both on a receiver.
For the rest of your music library, the AVR 7300 offers a pair of decent-sounding Hall modes, Logic7, Dolby DPL IIx, and the similar DTS Neo:6. Logic7 - in three modes: Music, Cinema, and Enhance - is Harman's proprietary 6.1/7.1-channel processing system, and it offers an interesting alternative to the Dolby flavor. With some music the difference was subtle and difficult to pin down, while with other things it was quite distinct. For example, Logic7/Music gave "Midnight Creeper" (from Live at Antone's), the signature shuffle of the great James Cotton, the wide "feel" of the club space, with just the right stage-to-crowd perspective for truly engaging, foot-stomping fun. On the other hand, a favorite disc of the Debussy and Ravel string quartets sounded more lifelike with DPL IIx. The good news is that the AVR 7300 lets you select one or the other at the touch of a button.
LATEST VIDEO