A Harbor Cruise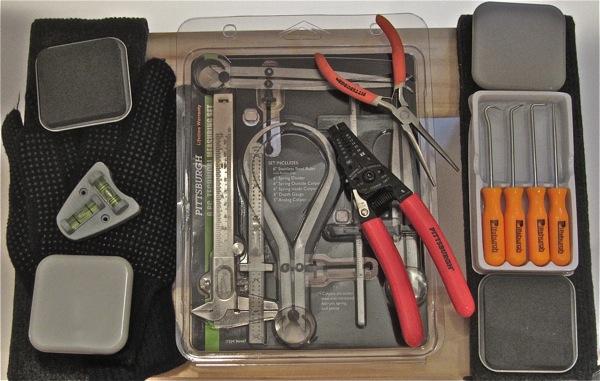 Some time back I was in the South Bay area of Los Angeles to pick up some gear at our California headquarters in El Segundo, some 30 miles from my home in the Valley (that's the San Fernando Valley, the pre- and near post- WWII home to hundreds of western movie shoots and, more recently, to freeways, mega suburbia, and Valley Girls). Even Angelinos may not be aware that El Segundo got its name from being the site of the second Standard Oil refinery built on the West Coast. As far as I know there's no town immortalizing El Primero or El Tercero.
But I digress. While I was in the neighborhood I accidentally happened across a Harbor Freight store. I've heard of the company, with its chain of stores (it's also on-line) offering bargain basement hardware and tools. Most of their stock appears to be made in China—though some of the tools exclusive to Harbor Freight are branded "Pittsburgh." Pittsburgh of Shenzhen, perhaps? Did you know that companies whose name starts with Shenzhen took up over 24 pages of the manufacturer listings in the 2014 International CES Directory?
But I digress again; this blog isn't about Schenzhen (from whence come so many of our audio and video goodies), but about my visit to Harbor Freight. Anyone who calls audio and/or video a hobby should occasionally spend an hour or two cruising a well-stocked hardware store. It's amazing what you can find, if not for daily use then at least occasionally. Of course, you don't want to spend bundle on something expensive that you might use only once (or never), though we've all done that. Two years ago I bought my first router and have yet to turn it on. But I've also bought one of those foot operated tables designed to raise or lower heavy objects from near floor level to about three feet, and that has been useful. Some day I'll blog about how two of us used it to help mount a retractable screen to the ceiling without it falling on our heads.
OK, now I'll get to my visit to Harbor Freight. I went in intending to browse, and spent 60 bucks. But I made a good haul, some of which is visible in the photo at the top of this digressionary blog. The mini-pick and hook set was cheap (just over a buck, I think, though I've misplaced my sales slip), so I thought it might be useful for removing difficult speaker grilles, or in a pinch for DIY dental work. As for those needle-nose pliers, I already have two pair, but they're not quite as needle-nosy at these. And everyone knows you can't have enough pliers. The wire stripper looks a bit more precise than the one I already have, which can take half of the wire strands with it when I strip off the insulation. In the middle is a caliper and metal rule set. I once priced calipers on the Internet when I thought I needed them, and they were pricey. When I saw this set for around $12 I decided I needed them all over again.
The cheap two-way mini-level will help keep those speakers from making like the Leaning Tower of Pisa. I already have a larger one, (a level, not a tower in Pisa) but this one looked handier. There were round bubble levels on sale as well, also cheap, but I've found round levels fiddly to use— the kind with a circle in the middle and a floating bubble that thinks it's in a pin-ball machine. Analog fans also need a good level to keep their turntables on the up and up.
You'll also see four mini sliders here (they came in a package with four larger ones as well). They're designed to make it easier to move heavy furniture around, including, for us, speakers and subwoofers. They have hard plastic on one side and dense foam on the other.
The last visible item is a pair of gloves with rubberized palms and fingers. You can just see them under other stuff on the left, distinguished by their rubber dots. I didn't actually buy these at Harbor Freight. I've owned them for some time, but worth bringing up here because they're indispensible walking heavy speakers around the room, particularly speakers with the currently fashionable rounded backs and glossy finishes.