Hands On: Xbox One S Brings 4K, HDR into the Fold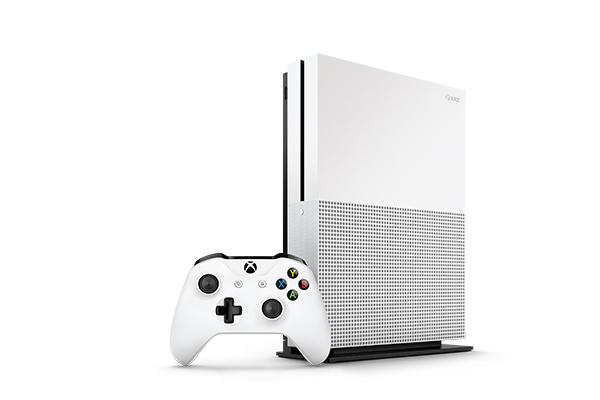 It's no secret that one of my favorite components for streaming video is the Xbox One. Microsoft has just released its successor, the Xbox One S, which adds 4K/Ultra HD (UHD) and high dynamic range (HDR) capabilities. Now I can stream from Netflix in UHD with all of the benefits of using the Xbox One. For the last several days I've had the opportunity to test the Xbox One S, and despite a few hiccups, I'm duly impressed.
The Xbox One S is capable of transferring 4K video to a UHD TV as long as it has an HDMI port that supports HDCP 2.2. It upscales high-def games and videos and does a good job at making standard-def video watchable on a big screen. As of now, only Netflix supports 4K but Amazon Instant Video and other streaming apps will follow shortly. And gaming picture quality will get a big boost this fall when Gears of War 4, Forza Horizon 3, and Scalebound are released in 10-bit HDR.
For gamers who appreciate good picture quality, transitioning to Xbox One S is a no-brainer. But even for non-gamers, the One S is a true hub for the Ultra HD home theater. Along with streaming media, the One S's disc player has been upgraded to UHD. I got a chance to check out Star Trek in UHD with HDR and as expected the picture quality exceeds that of any streaming service. Like some of the stand-alone UHD players, the One S offers the most popular streaming video apps—Netflix, Hulu, Amazon Instant Video, HBO Go, ESPN, Plex, VUDU, and so many more. It also brings the added benefit of integrating live TV and streaming so you can easily find what you want to watch regardless of where it's coming from.
[Editor's note: Home theater-philes should be aware, however, that the A/V enthusiast boards are abuzz with complaints about the Xbox One S not having an option to output Blu-ray and UHD Blu-ray disc audio via HDMI as a straight digital bitstream the way traditional disc players do, resulting in an inability to play Dolby Atmos and DTS:X object-based surround soundtracks. Perhaps this will be rectified with a firmware update.—Rob Sabin]
The One S can also be voice controlled. The newest update of Xbox One software (for both the original and the One S) uses Cortana, the Windows 10 digital assistant rather than the original "Xbox" commands. Cortana goes one step beyond the passive Xbox voice commands and actually answers you a la iPhone's Siri. It can look up directions, flight status, sports scores, weather and find local restaurants, make conversions, and answer trivial questions. Answers appear in a sidebar making it easy to ask about the movie you are watching or the game you are playing without having to leave the screen.
While Cortana is quick to launch an app, control playback, and navigate menus on the Xbox One (and One S), its level of understanding is on par with Siri when asked for information that goes beyond basic voice commands. In other words, Cortana misunderstands more questions than it gets correct.
To use Cortana on the Xbox One S requires connecting a headset to the new wireless game controller. Using either a gamer's headset or the earbuds that came with your phone, the microphone allows you to speak commands by saying "Hey Cortana." In these early days of the new operating system update, Cortana was erratic and often unresponsive when using a headset with the game controller. However, speaking to a Kinect adapter delivered an improved experience with fewer misunderstandings and quicker response to commands.
The downside of the Xbox One S is that it neither comes with a Kinect (which is usually included with the Xbox One), nor does it have a port to plug one in. To use a Kinect with the One S requires an optional Kinect windows adapter (originally designed to connect to a Windows computer) for $40. Kinect costs another $100.
Microsoft has redesigned the included wireless game controller to be more comfortable to hold for long periods of time and added a headphone jack to for listening to the Xbox (while muting the TV) and for voice commands. Additional controllers can be purchased separately for $60 each.
The Xbox One S case is sleeker and smaller than its predecessor and a stand is included if you want to position it vertically. It also has a built-in power supply, which means goodbye to the unsightly brick/power cord. Other additions include a USB port and pairing button, which have been added to the front panel for easy access.
Although the One S operating system is the same as the Xbox One, it has been updated to include Cortana as well as the ability to buy Xbox games in the Windows store and change languages, even when you are in a foreign country (previously you were limited to the language of the region where Xbox was connected). For gamers who are big on chatting with opponents through Xbox Live, Cortana's voice commands can be used to locate friends, start a party (group chat), and send messages. Notifications can also be sent to the Xbox app on your PC, phone, or tablet so you can communicate when you are away from your Xbox.
Previously called "smartglass," the app for phones and tablets has been updated and is now simply called "Xbox." Its first function is as a replacement remote control for the Xbox One and a cable/satellite/telecom receiver connected to it. Sadly, Microsoft has dropped the app's second-screen capabilities but it has beefed up the Live chat functions.
The 2TB edition of the Xbox One S is now available for $400 and Microsoft plans to release 1 TB and 500 GB editions for $350 and $300, respectively, in the near future. Before you scoff at getting an Xbox with a lot of storage, consider that Halo 5: Guardian is 87 GB. Just imagine what the gig count will be for HDR games.