Hands On: Apple TVOS 15 Spatial Audio and Sharing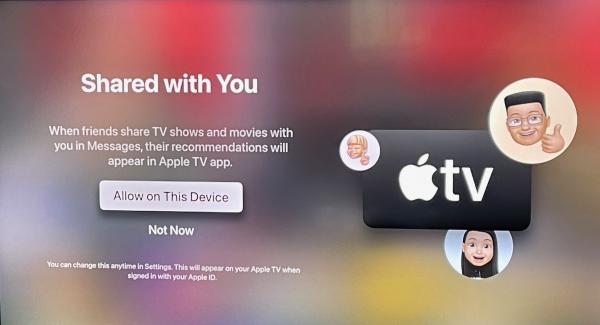 Apple TV has updated to the Apple tvOS 15. As with iOS 15 on other mobile devices, it comes with some tweaks and new features. Watching shared movies and shows, sharing your Apple TV, audio features like Spatial Audio, and Home Kit enhancements are all included in the newest update. As I have it set to automatically update, I was notified of the new changes and decided to check them out.
When watching a video, you no longer have to search to change audio, closed captioning, or change to picture-in-picture. New onscreen playback controls appear as soon as you lightly touch the navigation circle. Quickly switch between Reducing Loud Sounds and Full Dynamic Range audio. Or turn on/off and change the language in closed captioning. It's a small but welcome feature.
Siri on iPhones and iPads can control Apple TV. Now you can tell Siri to play or pause a video, search for a title, or open an app. As you can summon Siri on devices using the "Hey Siri" command, this means that you can control your Apple TV handsfree.
Apple made it easier to sign in or make purchases using an iPad or iPhone. This allows you to use Face ID or Touch ID and forgo manually entering passwords on the Apple TV.
Another Apple TV control feature is the Control Center. Pressing and holding the TV screen button on the remote brings up a control center like those on iPads and iPhones. You can quickly add or switch users in the control center, get to HomeKit routines, AirPlay music to other speakers in the home, search, or adjust connected AirPods. Here you can turn on noise cancellation or put the headphones into transparency mode and turn off Spatial Audio.
Spatial Audio has come to Apple TV. This virtual surround sound feature works when using Apple AirPods Max or AirPods Pro connected to your Apple TV. Finally, users can watch a movie with a sense of "room-filling" theater sound. As with Spatial Audio with iPhones and iPads, the AirPods accelerometer is used to determine the position of your head in relation to the TV screen. This means sounds are "placed" in areas of the room rather than locked into a right or left earpiece.
During testing, the AirPods Max performed exceptionally well. The sound appeared to fill the room. The dialog was clear and distinct. During the Formula 1: Drive to Survive cars appeared to zoom around the room. When I turned my head, the sound's "movement" continued from the same direction.
The AirPods Max connects to the Apple TV easily. When I put on the Max, a notification appeared on the TV. Pressing the TV button connects the headphones to the TV. Removing the headphones pauses the video or music. Placing the Max headphones into their case or lying them on a flat surface will put them to sleep and disconnect from the TV. It's incredibly convenient.
Spatial Audio worked with most recent videos (anything made or remastered in the last ten years). The sound is even more clear and defined when listening to movies or shows with Dolby Atmos.
Apple has made it easy to fix any audio sync problems between AirPods and the Apple TV. Go to Settings, then Audio and Video, then Calibration and Wireless Audio Sync. The lip sync was off when I was watching The Voice (the irony was not lost on me). It uses your iPhone to calibrate the audio. A notification appears on the phone to tap to begin calibration. A sound is played to determine the phone's distance (or your sitting position) to the TV. When it was done, the audio was in sync.
In tvOS 15, it's easier to watch what your friends and family recommend. The whole OS15 ecosystem has added a "Shared with You" feature that gives you fast access to photos, movies and music that others share with you via text. Watch shows that your friends or family enjoy or recommend that they watch a movie or show.
To share a video with another Apple user, go to a video you want to share on your iPhone or iPad. Look for the share icon (box with upward arrow) typically seen on the title's info screen. It may be on the screen. In Hulu or other participating video apps, you may have to click on three dots to find the share icon. Choose to text it to the person with whom you want to share. The other person can click on the video in their messages and watch it on their phone.
When others shared with me, the title automatically appeared in a row far down on my Apple TV's Watch Now screen. The titles also appeared in my "Up Next" row. It has not worked for videos I've shared with my friends. Perhaps this was enabled when a notification came onscreen asking if I wanted to allow Shared With You on my Apple TV. Others have not seen that message on their Apple TV. Although it was indicated that I could change my preference in Settings, I could not find "Share With You" anywhere in the Apple TV settings.
For households where more than one person watches the Apple TV with multiple Apple accounts registered to their device, a new "For All of You" row should appear on the Watch Now Apple TV app screen. This row displays recommendations for shows and movies based on everyone's (or the selected users') viewing habits. While Apple announced this feature, it did not appear on any Apple TVs in our home.
Apple announced that you would be able to simultaneously watch a video together in OS15 using SharePlay over FaceTime. This feature did not make it at launch.
Note that Apple tvOS 15 also includes the ability to view multiple HomeKit cameras on the Apple TV. I am not set up to test this feature.
Apple has not yet responded to my questions about the inconsistencies of the announced features. As I get answers, I'll be updating this post.